Benefits of Warm Water Therapy for the Aging Population
America's population is continuing to age in record number, which creates more of a need for therapy and wellness programs suited for this aging population. Many of these individuals are unable to perform land-based exercise or therapy due to pain, obesity or other restrictions.
Benefits of Warm Water Therapy
Warm water therapy allows aging adults to perform exercises in a pain-free and therapeutic environment with the following benefits: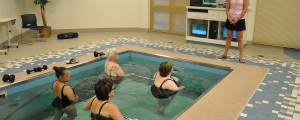 Buoyancy
Buoyancy assists in unweighting patients' body mass, decreasing joint stress and making it easier and less painful for residents to exercise.
Adjustable Water Depths
The HydroWorx 2000 and 1200 Series feature a fully adjustable floor allowing for easy entry and exit of the pool. The adjustable floor raises all the way to ground level eliminating the fear of falling when entering and exiting a pool. The floor can then lower from 0′ to 6′ to accommodate patients of all heights and therapy levels.
Hydrostatic Pressure
Hydrostatic pressure reduces joint inflammation, enhances circulation and improves joint position awareness.
Viscosity
The viscosity of water is an excellent source of natural resistance for strengthening. Patients can improve mobility, strength and function during the healing process.
Healing
Warm water also stimulates body awareness, balance and trunk stability. Patients also experience muscle relaxation, resulting in an increase of blood flow and earlier healing.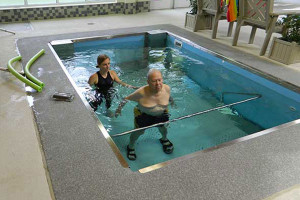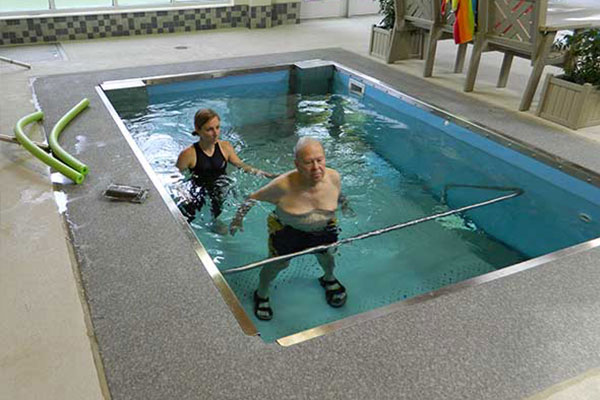 "The healing powers of warm water environments can enhance one's multiple dimensions of well-being. HydroWorx pools can help older adults maintain and/or regain independence. They provide individuals with increased environments and individuals can be proactive and take responsibility for their health and wellness." – Jan Montague, President of Whole-Person Wellness International
By integrating a warm water therapy pool with an underwater treadmill, therapeutic resistance jets and adjustable floor, into your community, residents are able to experience numerous benefits.
Request a Free Info Kit View Our Products Find a Pool Near You
Additional Benefits of Warm Water Therapy Pools
Improved balance without the fear of falling
Pain-free exercise and weight loss
Increased leg strength to remain active and reduce falls
Faster rehabilitation from various surgeries or injuries
Reduced joint pain from arthritis, fibromyalgia or other chronic pain issues
With 77 million "Baby Boomers" currently in the US, and many more to come, hydrotherapy will continue to be the sought-after medium for which to effectively and safely unload the joints, reduce the risk of falls, and enlighten mental outlook.
"You can't believe how happy I am that I was able to find some means of helping get my strength back. Being in the HydroWorx pool allowed me to be able to get up from a sitting position. I never dreamed of how much improvement I could make in such a short time." – Virginia, user at Walnut Ridge, suffers from MS and Parkinson's
Learn More With HydroWorx
Learn more about the benefits of aquatic therapy for seniors from our Free White Paper, "Why Water Worx for Senior Living & Senior Services." Download today.
Page Updated on: July 9, 2020