Warm Water Therapy for Older Adults
As our bodies age, it can be challenging to stay active. Warm water therapy can provide an opportunity to strengthen muscles, reduce pain and help heal chronic conditions.
What Is Warm Water Therapy?
Warm water therapy helps patients with musculoskeletal conditions continue to enjoy the activities they love. This hydrotherapy is done through exercises with a physical therapist, fitness instructor or personal trainer. 
Benefits of Warm Water Therapy for Aging Patients
The benefits of warm water therapy for older adults can include:
Improved balance
Pain-free exercise and weight loss
Increased leg strength 
Faster rehabilitation from various surgeries or injuries
Reduced joint pain from arthritis, fibromyalgia or other chronic pain issues
Increased motivation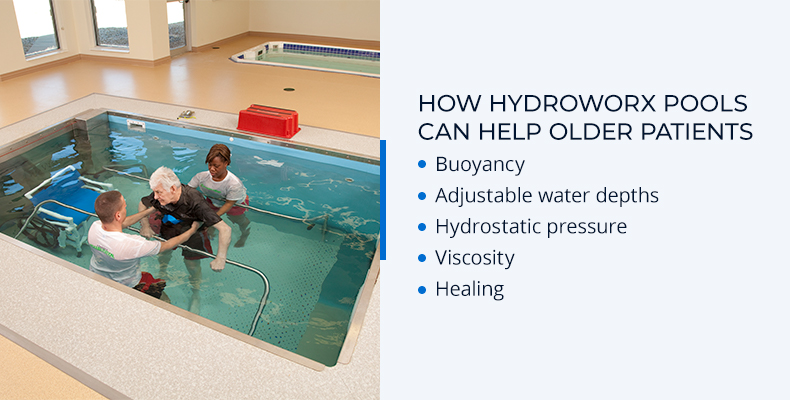 How HydroWorx Pools Can Help Older Patients
A warm water therapy pool with an underwater treadmill, therapeutic resistance jets and an adjustable floor offers numerous benefits, especially for aging users.
Specifically, HydroWorx aquatic wellness pools offer:
Buoyancy: Water buoyancy supports body mass, decreasing joint stress and making it less painful to exercise.
Adjustable water depths: The HydroWorx 2000 and 1200 Series feature fully adjustable floors, allowing for easy pool entry and exit. The adjustable floor rises to ground level, making it easier to enter and exit a pool. The floor can then lower from 0 to 6 feet to accommodate patients of all heights and therapy levels.
Hydrostatic pressure: Hydrostatic pressure provides an equal force of gravity throughout the whole pool, reducing joint inflammation, enhancing circulation and improving joint position awareness.
Viscosity: The natural resistance helps patients improve mobility, strength and function during healing.
Healing: Warm water can influence body awareness, balance, trunk stability and stress relief, encouraging blood flow and healing.
Learn More About Hydrotherapy for Older Adults With HydroWorx
Learn more about the benefits of aquatic therapy for aging patients by downloading our free white paper, "Why Water Worx for Senior Living & Senior Services."
Contact us with questions or find a HydroWorx warm water wellness pool near you!