Addressing Common Patient Aquatic Therapy Objections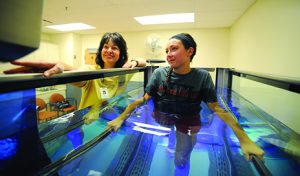 Most healthcare facilities quickly find that adding aquatics allows them to eliminate some of the barriers that patients face with physical therapy and rehabilitation such as weight-bearing restrictions and pain. Soon, however, another barrier can arise: patients' initial fear of getting in a pool.
Below is the shortlist of common barriers aquatic therapy patients raise before getting in the pool and solutions to help your patients overcome them.
I don't want to be seen in a bathing suit! Many of us, young or old, dislike being seen in a bathing suit. One simple solution is to not require them to wear one! "Dri-fit" and "fast dry" workout clothes are comfortable for water use and easy to find. There are some apparel companies that specialize in senior living aquatics that can help patients find clothing that match up with their needs.  Some senior care facilities even provide aquatic apparel, towels and other fun gear in a personal bag for each participant to increase willingness to join an aquatics program. If this is a common objection from many patients, you can consider putting up a partition or privacy curtain to block any passersby while patients are in the pool.
I'm afraid of the water! Although spending time at the beach and the pool seems to be an American pastime, many individuals have never spent significant time in or near water. Others may have had traumatic experiences that have caused them to stay away from water. For patients with fear of the water or fear of transferring to the water, have them come watch a session with others before they participate. This will give them an idea of what to expect and show them that immersion of face/head is not required.  Also, ensure that a clinician is in the water with them and offer shallow depth areas in the pool. If your pool has a moveable floor or variable water depth, keep the patient at a shallow, comfortable depth that is less intimidating for beginners until they acclimate.
I'm skeptical it will work! When many of your patients were growing up, pools were a place to play, swim, splash and dive. Very rarely were they used for therapy. Some clients associate it with play, not as a tool to help them heal.  To hurdle this barrier, give them easy-to-read literature, research and videos that explain the benefits of aquatic therapy and pool workouts.  Show them videos like this  of folks who've seen dramatic results from the water after stroke, surgery or chronic pain. Let them talk with other patients who've seen success in the pool. Talk with the patient's physician or surgeon and see if  they would prescribe a few sessions in the pool. This holds even more clout than a friend giving anecdotal evidence of how the pool might help. Alternatively, some patients have not had success with other physical therapy modalities because of added pain and are skeptical of any "new" program. Explaining the natural benefits of water such as the unweighting of joints due to buoyancy and the relaxation that comes with warm water can help alleviate fears of pain. Often just trying it once will help them see the true reduction in pain compared to land modalities.
I'm afraid my wound will get wet! A major concern about getting patients into the water early after surgery is exposing the wound to the water. There is plenty of research and anecdotal evidence to show that this should not be a concern when handled properly. According to a meta-analysis published in the Archives of Physical Medicine and Rehabilitation in 2013, early aquatic physical therapy improves function and does not increase risk of wound-related adverse events for adults after orthopedic surgery. The most common way to keep a wound safe is to use bio-occlusive dressing to ensure the incision stays dry. For more information, watch this video on waterproofing>>
As with anything new, there will always be individuals who are skeptical or fearful, but many become aquatic therapy fans once they try it. Being prepared for these potential objections will help to ease most concerns from patients and make the integration of water into a rehab program a smooth one.
What other objections have you heard? Comment below.