Achilles Tendon Rehab for MLS Soccer Player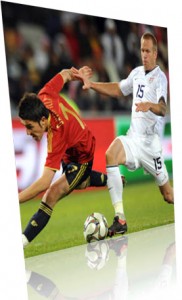 The recovery from an achilles tendon rupture can be long and painful, especially when it happens in the first game of a season. Jay DeMerit of the Vancouver Whitecaps, experienced just that, only 6 minutes into the start of the 2013 season.
Thankfully he had access to the amazing staff and facilities at Fortius Sport and Health. Jay was back to jogging on land in 12-14 weeks, full training with the team in 5 months and back to game play before 6 months. He returned so quickly not only because of his body's fast healing, but also because of the mode of rehabilitation which allowed him to maintain fitness even while restricted in weight-bearing activities. Nick Held, Director of Hydrotherapy at Fortius, had Jay in the HydroWorx 2000 Series pool for 1 hour per day, 5 days a week for 4 months to keep his body strong and ready for what was to come on the field. Nick kept in close contact with the head athletic trainer for the Whitecaps and was introducing new activities 2-3 weeks prior to when he was cleared to do them on land. This gave Jay a tremendous boost in confidence in using and trusting his ankle. By the time he was performing protocols on land, he had already mastered them in a safe environment and felt confident that his ankle could handle the dynamic movements.
Using the underwater treadmill, resistance jets, underwater cameras and some creativity, Jay was able to closely mimic land movements and correct any gait patterns immediately. The beginning stages of rehab included things such as simple walking, heel raises and single leg balance. Once Jay mastered those, he was able to move on to more dynamic movements for the ankle like lunges, side steps and karaoke. When he was cleared for further progression, they focused on active range of motion protocols.
Learn more about Jay Demerit's rehab at Fortius by watching the video below:
Don't miss our upcoming webinar, "The Use of Hydrotherapy for Gait Re-Education" presented by Kerry Glendon, MSc BSc(Hons), mCSP, mMACP, mACPSEM, mAACP, Clinical Specialist, Perform at St. George's Park, on November 18, 2014 at 11:00am EST. The presentation will detail exercises in the pool that may improve the altered movement patterns and the outcomes gained using aquatics with patients at Perform, St. George's Park. Register Today>>