3 Ways to Build a Robust Aquatics Program without the Cost of New Hires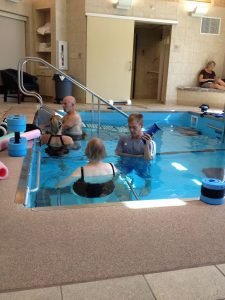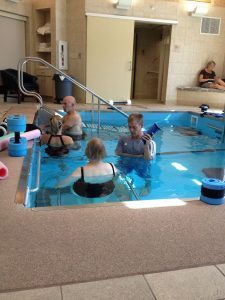 The phrase "It takes a village to raise a child" is an African proverb that asserts a child has the best opportunity to become a healthy adult if the entire community takes an active role in contributing to his rearing.
Likewise, patients of a therapy center are best served when cooperation and teamwork are employed by all staff members. When staff members work as one unit for the benefit and betterment of the patients they serve, the patients have the best opportunity to heal and therapeutic equipment investments are most effectively utilized.
Rehab directors or therapists sometimes believe an aquatics program is difficult to implement unless ownership or management brings in new staff to support and run the program. This isn't necessarily true. By using time wisely, planning efficiently and working together, staff leadership can incorporate the skills and enthusiasm of current team members to create a robust aquatics program.
Below we share three tips we've gathered from our clients as they've built successful aquatic programs while utilizing their current staff.
Tip #1: Cross-train
One of our clients is a finely tuned machine when it comes to position overlapping. Work, for them, is a total team environment. PT techs, PTAs, administrators and therapists at AquaWorx in Logan, Utah answer the phone, help in the gym, man the front desk and assist each other with whatever needs arise, whenever they arise. Cross-training at AquaWorx is almost an art form.
"We all understand the importance of the team component and what we have to offer our patients," says Amy Henrie, PT Tech at AquaWorx. "Communication with each other and making sure our patients feel cared for and valued, that's really important to us."
Tip #2: Get buy-in from staff
Keith Cook, who spearheaded the development of the aquatics program at Intermountain Healthcare's McKay Dee Hospital several years ago, says working as a team and getting the team's input will maximize ROI for an important clinical investment.
"Without talented, dedicated people, it won't matter what equipment you have, where you're located, what your place looks like. If you're not engaging the team in decision-making, you're missing valuable opportunities."
Take a genuine interest in what your team members think. Don't come to the table believing you have the right answers all of the time. Ask questions of your team and white-board their ideas. Implement their valuable purchasing and planning ideas.
Intermountain generates teamwork and empowers their staff with an initiative they call the Healing Commitments. Each employee is committed to creating a healing environment through skills, attitudes and services. https://intermountainhealthcare.org/about/who-we-are/trustee-resource-center/healthcare-initiatives/patient-experience-signature-initiatives/
Tip #3: Schedule creatively
Stonehill Franciscan Services, a CCRC in Dubuque, IA, developed a scheduling system to utilize their resources—the pool and staff—to their highest function. Stonehill's system includes utilizing the pool for their wellness program early in the morning, putting four people in the pool for every half hour beginning at 5:30 am. Then therapy patients take the pool from 10 am to 3 pm. Staff members are cross-trained and share the responsibility of getting in the pool with patients or monitoring them poolside. From 3 pm to 9 pm the pool and staff return to accommodating the wellness members, again with four utilizing the pool every half hour. This schedule is sometimes booked out two weeks in advance.
This team rotates responsibilities; multiple therapists get a chance to be in the water, but never for more than a few hours a day. This allows the entire staff to share in the excitement and creativity of using the versatile modality and also distributes the role of changing clothes and getting wet.
Another facility, when revamping their program, went to a Tuesday, Thursday schedule. They schedule all aquatic patients for these days and switch in-pool therapists at the day's half-way point.
In all of these scenarios, new employees were not needed to introduce a new modality.
All said, an aquatics program won't reach its full potential if your patients don't feel the love—from each and every team member. Remember, it takes a network of loving individuals to most effectively prepare a child for adulthood and it takes a cohesive, unified staff to give patients the best chance for remarkable outcomes.
To see the results of Stonehill Franciscan Services' aquatics program integrating wellness and therapy, download our customer profile>>