3 Things You Need to Know About Active Recovery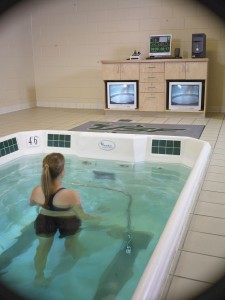 Active recovery is a very valuable tool that can be used to improve performance. Performance specialists are starting to find that keeping muscles and joints moving after intense training days keeps their athletes better equipped to handle subsequent intense training days. There are many ways to keep the body in motion on a "rest" day, such as doing yoga or tai chi. In addition to those methods, performance specialists at Michael Johnson Performance are utilizing an underwater treadmill. Using an underwater treadmill to assist on recovery days has multiple benefits. The combination of hydrostatic pressure and active motion in the water can have impressive effects on the body. Athletes are able to come out of the water feeling refreshed and rested, while at the same time feeling like they got an effective workout. Additionally, the use of the massage hose in the water can work to strip out lactic acid that has built up in the muscles after difficult workouts.
Three things you need to know about active recovery using an underwater treadmill:
It's effective: Athletes are ready for their next hard workout even more so than if they just rested for a full day. In the words of the staff at Michael Johnson Performance "Motion is Lotion".
It's efficient: By actively moving joints and muscles, even on a recovery day, you are able to get more out of them. While recovering in the water, one can efficiently rest muscles while also strengthening them and maintaining cardiovascular fitness.
It's enjoyable: You do not have to beg athletes to get into the water for a workout or even for hot and cold therapy before and after workouts. It is something they look forward to because they know it works. Therefore, they don't need to be reminded to start and end their workouts with plunge pools. From thousands of responses after thermal and cold contrast therapy, as well as active aquatic recovery, the athletes' responses have been nothing but positive.
Watch Lance Walker, Director of Performance and Lindsey Anderson, Performance Specialist at Michael Johnson Performance talk about why they use water and underwater treadmill workouts for recovery days:
Don't miss our free upcoming webinar: Use of Aquatics for Recovery and Regeneration on December 18, 2013 at 1:00pm EST. This webinar will be presented by Lance Walker and Brian Abadie, Performance Specialist at Michael Johnson Performance. Register today>>