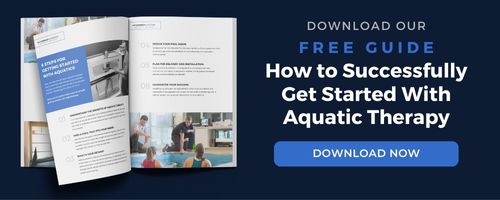 Aquatic rehab effectively promotes a fast recovery from full or partial hip replacement surgeries. Low-impact aquatics are safer and involve a smaller perception of pain and effort, making it a suitable choice for everyone from older or overweight adults to professional athletes.
Aquatic rehabilitation with a HydroWorx therapy pool encourages a progressive recovery, allowing physical therapists to gradually adjust the resistance level so the patient can slowly build up their strength. Because there is no fear of falling in an aquatic environment, patient confidence and average recovery times from hip replacement surgery are improved.
Jump to Sections:
Benefits of Aquatic Therapy for Hip Replacement Rehab
Recovery from a major surgery such as a hip replacement can be a long process. Patients will often get discouraged by the slow speed at which their energy levels and range of motion return to normal. One of the major benefits of using aquatic therapy for hip rehabilitation is that patients seem to enjoy it more. There's no question that keeping spirits up and making hip rehabilitation fun is a major challenge clinicians face — many find that putting aquatics at the core of a hip replacement rehab protocol leads to more positive patients who are less frustrated by the pace of their recovery.

Aside from aquatics' impact on the patient's mood, there is more clinical evidence pointing to the benefits of aqua rehab for hip replacement. This includes:
| | |
| --- | --- |
| | Reduced risk of falls: Exercising in an aquatic environment reduces the risks of slips and falls that can cause major setbacks during hip rehabilitation. Not only does this improve overall recovery outcomes, but it also allows the patient to push themselves further by doing stretches and exercises they would be reluctant to do on land for fear of injury. |
| | Decreased joint inflammation during recovery: Water is an ideal environment for hip rehab because its low resistance reduces pressure on the joint and hydrostatic pressure promotes circulation, which decreases inflammation and pain. Less inflammation increases joint mobility, improving blood flow and reducing scar tissue. |
| | Less joint stress: Water rehabilitation therapy takes advantage of the increased buoyancy of water to reduce stress on healing joints. Underwater, the body is up to 80% weightless – this means less pressure and increased mobility. As recovery progresses, physical therapists can adjust the level of resistance by simply changing the depth of the water. |
| | Increased strength and range of motion: Because the overall benefits of aqua rehab include less pain and greater flexibility, patients frequently find it easier to build up strength and range of motion during recovery from hip replacement surgery. The natural viscosity of water adds resistance which increases strength. |
| | Faster recovery: Patients can engage in aquatic therapy a few days after their hip replacement surgery, resulting in a shorter recovery period than land-based physical therapy. Additionally, since water's unique properties improve blood circulation, patients can expect faster healing. |
| | Fewer side effects: In addition to promoting a faster recovery, aquatics are beneficial to the overall health of the patient. They are shown to improve strength, flexibility, balance and cardiovascular function. This, in turn, leads to a decreased risk of common side effects such as arthritis, inflammation and strains. |
| | Postural corrections: Aquatic rehab makes it easier for clinicians to adjust postural corrections during exercise. Because aquatics can strengthen the back and spine, it also makes it easier to correct long-term posture, gait and joint positioning problems — this reduces the risk of further injury and promotes a faster recovery. |

Case Studies of Hydrotherapy and Hip Replacement Rehab 
The benefits of aquatics for recovery from hip replacement surgery have been clinically proven in a number of peer-reviewed research studies. Research into "the effect of inpatient aquatic physiotherapy in addition to usual ward physiotherapy on the recovery of strength, function, and gait speed after total hip or knee replacement surgery," by Rahmann, Brauer and Nitz, published in the Archives of Physical Medicine and Rehabilitation (Vol. 90, Issue 5, May 2009, pp 745-755), concluded that "a specific inpatient aquatic physiotherapy program has a positive effect on early recovery of hip strength after joint replacement surgery."
More evidence of the long-term benefits of aquatic rehab therapy for hip replacement patients — particularly for older adults — can be found in the article "Hydrotherapy after Total Hip Arthroplasty: A Follow-Up Study," published by Giaquinto, Ciotola, Dall'Armi and Margutti in the Archives of Gerontology and Geriatrics (Vol. 50, Issue 1, Jan-Feb 2010, pp 92-95).
The authors found that among 31 older patients who had undergone hydrotherapy (HT) following a total hip arthroplasty, "pain, stiffness and function were all positively affected [and] statistical analysis indicated that WOMAC sub-scales were significantly lower for all patients treated with HT" six months after the procedure. Thus, the study's authors conclude, "hydrotherapy is recommended after THA in a geriatric population."
In addition to the specific benefits of aquatics on patients recovering from hip replacement therapy, a wide range of research demonstrates the overall value of a HydroWorx pool for athletic trainers, physical therapists and other professionals. HydroWorx has made a significant investment in academic research to develop the best possible product for a range of different applications. 
Hip Replacement and Revision
Deb Sunderman had two hip replacements and a revision. She participated in two Olympic Games as a paralympian. Chris Kost puts her through her paces in an intense workout in ACCUA's HydroWorx exercise pool in Savage, MN.

Hip Replacement Rehab and Aquatic Therapy Exercises
A general guideline for aquatic rehab following hip surgery is to stick with high-repetition, low-resistance exercises. This will keep the joint healthy and encourage a fast recovery. While the type of therapy you recommend for a patient will vary according to the timeline of the hip replacement rehab process, useful exercises may include:
Water Walking
Gait training is an important first step in recovering from hip replacement surgery. Depending on their strength level, the patient can begin walking on an underwater treadmill in waist- or chest-deep water. A flotation belt can be added for extra buoyancy. Start slowly, paying close attention to the patient's gait both in person and on video. Many people who have lived with hip pain for some time will have developed compensatory movements that can hinder recovery.
Stretches
A number of stretches can be useful for building up strength in the hamstrings and hip abductors and flexibility in the joints. Limiting bending to less than 90 degrees is necessary to prevent strains and other potential complications. Stretching is much easier in warm water where muscles are relaxed.
Leg Movements
Leg movements are one of the most essential components of rehab from hip replacement surgery. These can include hip extensions, hamstring curls, high knee raises, heel to toe raises, leg circles, gentle kicks and bicycling. Water both assists in movements by defying the effects of gravity and also increase the resistance of the movements.
Squats
Squats can be added to an aquatics routine with decreased load once the patient has recovered some of their strength and flexibility. Start slow and gentle, limiting bends in the knees to less than 70 degrees. Once strength is built up, move to shallower water to place more weight on the hip joint and encourage muscle development.
As the patient's recovery progresses, you can add higher impact exercises to maintain bone density and progress healing. Underwater jumping jacks, squat jumps and stair climbing can be introduced near the end of the training process. It's recommended that the patient is equipped with a flotation belt to minimize stress on the hips. If progress is made without pain, the belt can be removed and more impact exercises gradually added.
Of course, your professional judgment is always key to gauging the patient's progress and determining when they are ready to incorporate these more intense exercises.
The HydroWorx Edge
While aquatics in general have been proven effective in helping patients recover from hip replacement surgery, HydroWorx products contain a number of special features that make them particularly suited to this clinical application.
Some of the reasons why a HydroWorx pool is an especially powerful piece of hip replacement rehab equipment include:
Adjustable flooring: HydroWorx 2000 and 1200 Series pools feature an adjustable floor that can be raised and lowered in less than 30 seconds. For hip replacement rehab, this serves two important purposes. It allows the patient to get into and out of the pool more easily, especially when stairs are most difficult. It also gives the clinician the freedom to easily adjust the amount of load during water walking, squats and other exercises.
Built-in treadmill: All HydroWorx pools feature a built-in underwater treadmill. Because water walking is such an important part of hip replacement rehab, this feature is an invaluable ally throughout the recovery process. With treadmill speeds that increase in safe .2 mph increments, it helps patients to mimic proper gait and walking form.
Resistance jets: In addition to its built-in treadmill, a HydroWorx pool's adjustable resistance jets give physical therapists another way of increasing the intensity of a workout. Whether you're working with an elite athlete or an aging adult, HydroWorx pools offer the flexibility to meet your patient wherever they are in their recovery. Besides increasing the intensity, our resistance jets also provide deep tissue massages to relax muscles and joints after a workout, relieving pain around the patient's hip.
Underwater cameras: Underwater cameras allow clinicians and patients to monitor gait patterns and specifically hip movements to ensure correct form. This also gives them the ability to closely monitor movement of the hip to ensure it stays within any movement restrictions.
Frequently Asked Questions
It's normal to have questions before starting a rehabilitation program. Here are some frequently asked questions and their answers to provide more information for patients going through hip replacement recovery:
How Long After Surgery Can a Patient Start Aquatic Therapy?
Of course, a surgeon or clinician must determine when a patient begins their hydrotherapy program. However, many clinicians allow their patients to start aquatic therapy in as little as two to three days after their surgery. 
One of the best elements of hydrotherapy is that a patient can begin their rehabilitation soon after a hip replacement. There is no need to wait until the surgical wound heals. Patients can waterproof the surgical site with bio-occlusive dressing before each session. Starting aquatic therapy early in the hip replacement recovery process benefits the patient in many ways, such as promoting faster healing and preventing muscular atrophy.
Do Patients Need to Know How to Swim to Engage in Hydrotherapy?
Patients do not need to know how to swim to start hip replacement rehabilitation since they will not submerge their heads in the water. Besides back and shoulder aquatic therapy, most hydrotherapy programs don't require swimming. 
Clinicians supervise each session and ensure patients follow the correct form when exercising. Patients who can't swim do not have to worry about being unsupervised or alone in the pool. Additionally, HydroWorx pools provide constant support with movable floors and sufficient handrails.
Getting Started
If you're considering purchasing an exercise pool to help clients recover from hip replacement or any other type of surgery, your choice of a HydroWorx product will not only benefit your patients, but it will also help you grow your business in a responsible way.
Download our Guide: "How to Successfully Get Started With Aquatic Therapy"