The Benefits of Aquatic Therapy For Kids
Providing physical therapy for a child requires a different kind of approach than working with an adult. Kids may become bored or easily intimidated when it comes to land exercises, making it a challenge to give them the care they need.
That's why many clinicians offer pediatric aquatic therapy, as some children are more likely to respond positively to water exercises. Investing in water therapy for kids is a great way to make child therapy sessions easier for both the clinician and the young patient.

Pediatric Aquatic Therapy Benefits
Minimal Discomfort
While many adults are willing to endure physical therapy because they understand the end result, kids might get discouraged or shy away from an exercise that causes discomfort. Land exercises can be challenging, and a child may want to quit in the presence of unpleasant feelings.
However, because the buoyancy of water makes aquatic therapy easier on joints, water exercises usually cause less discomfort than land exercises. If the patient is comfortable, they are more likely to see the session through to the end without becoming intimidated or frustrated. It's important to offer multiple modalities so you can easily adjust your methods according to a child's needs.
From the second that Jackson saw the HydroWorx pool he was elated with a huge smile on his face. For the entire session, Jackson was engaged, animated and participated better than he had in a while. As therapists, it has been an absolute joy to see all of the progress that he has made in such a short time with introducing therapy in the pool.

Ambyr, MS, CCC-SLP and Tim, PT, DPT at Pullman Regional Hospital.
Entertainment Instead of Work
The main draw of pediatric aquatic therapy is that it feels more like a form of entertainment than a job. Children often have short attention spans, meaning that even interesting activities may not hold their attention for long. Most land exercises, especially in a clinical setting, might feel like work to a small child.
You can give your pediatric patients a type of therapy session they'll enjoy by offering water therapy for kids. As long as they aren't afraid of water, most kids associate these exercises with fun and excitement. This will help make them more receptive to your requests, especially if you develop activities to keep them engaged. The opportunities to create a fun, engaging and productive program in the water are only limited by your imagination.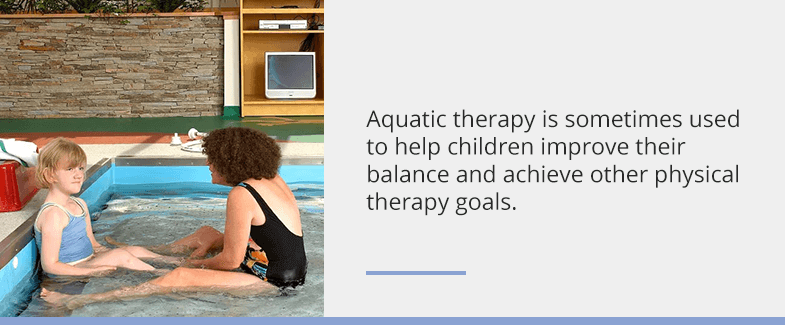 Less Anxiety
Even those who have had mostly positive experiences with doctors and clinicians tend to get nervous when they have to visit one. Children, in particular, may become anxious when they enter a clinical atmosphere, especially if they have endured trauma in the past.
Water therapy takes away some of the clinical feelings from a facility and replaces it with a more light-hearted, recreational feeling that can ease some of a child's anxiety. While it may not eliminate all nervousness, it will help make your patient more comfortable and relaxed so you can communicate with them more effectively and get the most out of each session. Once kids are in the water, they tend to calm down. Because of this, clinicians have found that it becomes easier to make progress in physical, occupational and even speech therapies.
Invest in Pediatric Aquatic Therapy With HydroWorx
Pediatric physical therapy has its challenges, but it can be rewarding for both the clinician and the child when they learn to communicate and connect on a level that works for them. Water therapy is a great option for patients of all ages who need to manage pain or build strength in a safe environment. If you're ready to buy a pool for your facility, our design services team is more than happy to help you get started!