Rehabilitation of Herniated Disc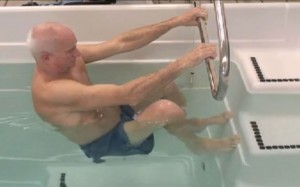 The symptoms of a herniated disc can range from extreme pain to no noticeable changes. Those suffering from herniated discs, or slipped discs, often endure chronic pain, muscle weakness or affected nerves which can interrupt daily activities. They are often caused by disc degeneration which is a result of gradual wear and tear.
For David, his herniated disc was disrupting his daily activities and his construction job. He was standing with his weight shifted to compensate for the pain, he was having sleeping problems and his hip flexors were tight. It came to the point where his doctors recommended surgery to give him some relief. He decided, instead, to try conservative treatment before diving into surgery, so he went to Veronica Paquette, PT, Owner of Essex Aquatic & Rehab Center in Essex Junction, VT. In order to decompress his lumbar spine, Veronica put him into the HydroWorx 500 Series pool so he could work on core and leg strength without the pressure on his back. Other advantages of putting him in the pool included loosening his tight muscles with the warmth of the water as well as providing natural resistance to movements he would do on land for further strengthening.
They focused on exercises that would strengthen his core, increase his flexibility and strengthen leg muscles. These protocols included:
Walking on the underwater treadmill at 1.4 mph with progression up to 3.0 mph
Side stepping on the underwater treadmill
Backwards walking on the underwater treadmill
Hamstring stretching using the raised platform and handrails
Step ups
Dumbbell fly using HydroTone dumbbells
Push/Pull exercises
Push Up/Down exercise to simulate lifting
Abdominal rotations using noodles
Bicycling using noodles
This list includes just a few of the protocols used during his sessions to improve his symptoms. David saw improvements by his second visit to the pool and ultimately was able to avoid having surgery thanks to his work in the pool combined with a postural restoration program. By the end of his rehabilitation he had increased overall strength and reported feeling 90% better! He also had eliminated his leg symptoms and back pain and increased his flexibility.
Veronica is confident in using aquatic therapy because it allows people to move without compensating. Once individuals are in the warm water, they are relaxed to do range of motion exercises that they may not be able to achieve on land. This allows patients to break the pain cycle and find relief!
Request a Free Info Kit View Our Products Find a Pool Near You
Watch videos of his rehabilitation below:
To learn more about changing gait patterns for patients, view our webinar "The Use of Hydrotherapy for Gait Re-Education" on-demand!
Page Updated on: July 7th, 2020