Introducing The HydroWorx RISE: The First Modular Design In Hydrotherapy History
With solutions ranging from 9'x3' to 12'x16', finding a HydroWorx to fit within a space rarely becomes a challenge. However, just because the product can fit in the end location does not always mean that the location is easily accessible for delivery.
Accessibility challenges have created a long-time barrier that has kept patients and athletes from using hydrotherapy to improve their recovery. Until now…
Mike McHugh, Director of Sales Development, is passionate about raising awareness of hydrotherapy's benefits, as HydroWorx products have been crucial in his own journey of recovering from multiple sports-related injuries.
"Even with the impressive space HydroWorx has covered over 25 years in healthcare, senior living, neurological, pro and college sports, and high schools (the list goes on), there are still more people who have not experienced hydrotherapy as there are who have", shares Mike, "Reaching those people has always our ultimate goal. To help as many people as possible be able to experience successful and efficient recovery and rehabilitation."
HydroWorx wanted to bring aquatic therapy solutions to as many customers as possible, which meant removing the deliverability barrier so there wasn't a struggle in figuring out how to simply get the unit into a customer's facility so they could serve their patients.
After nearly two years of brainstorming, prototyping, and refining, the new product development team is now introducing a solution to this puzzle: the HydroWorx RISE.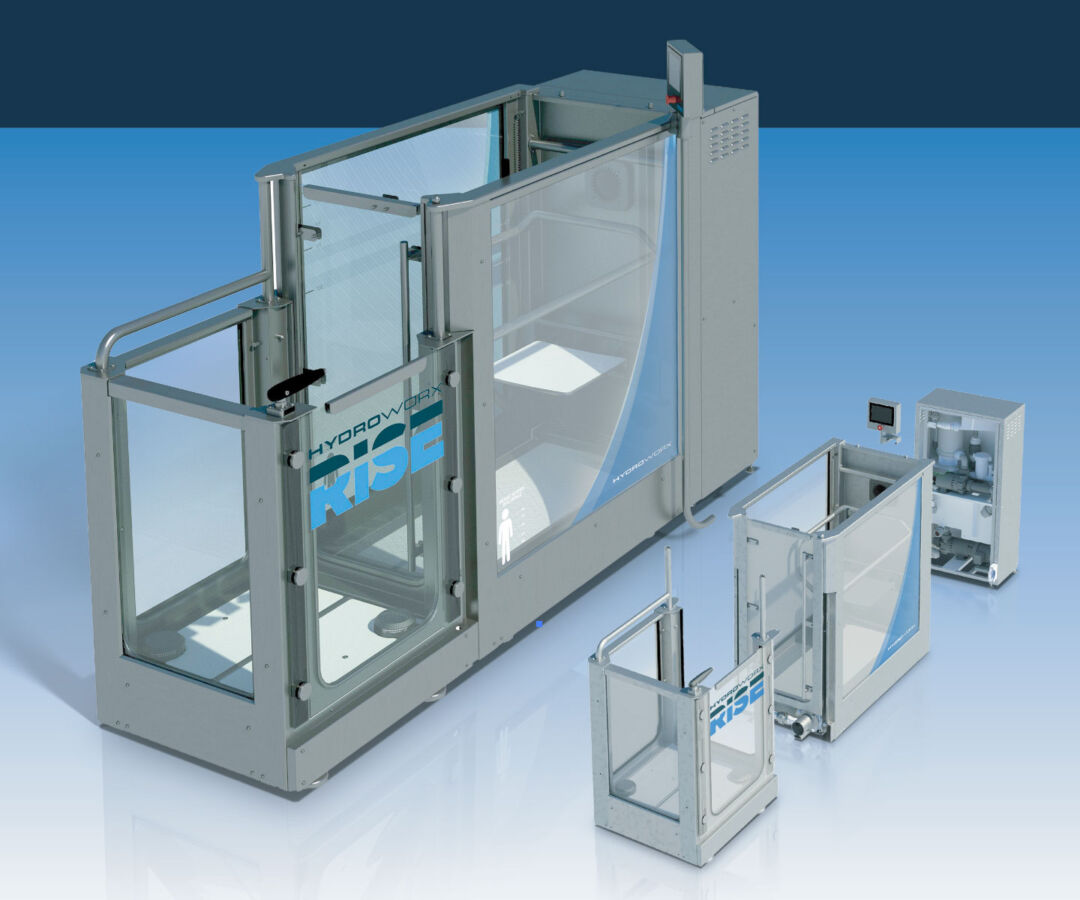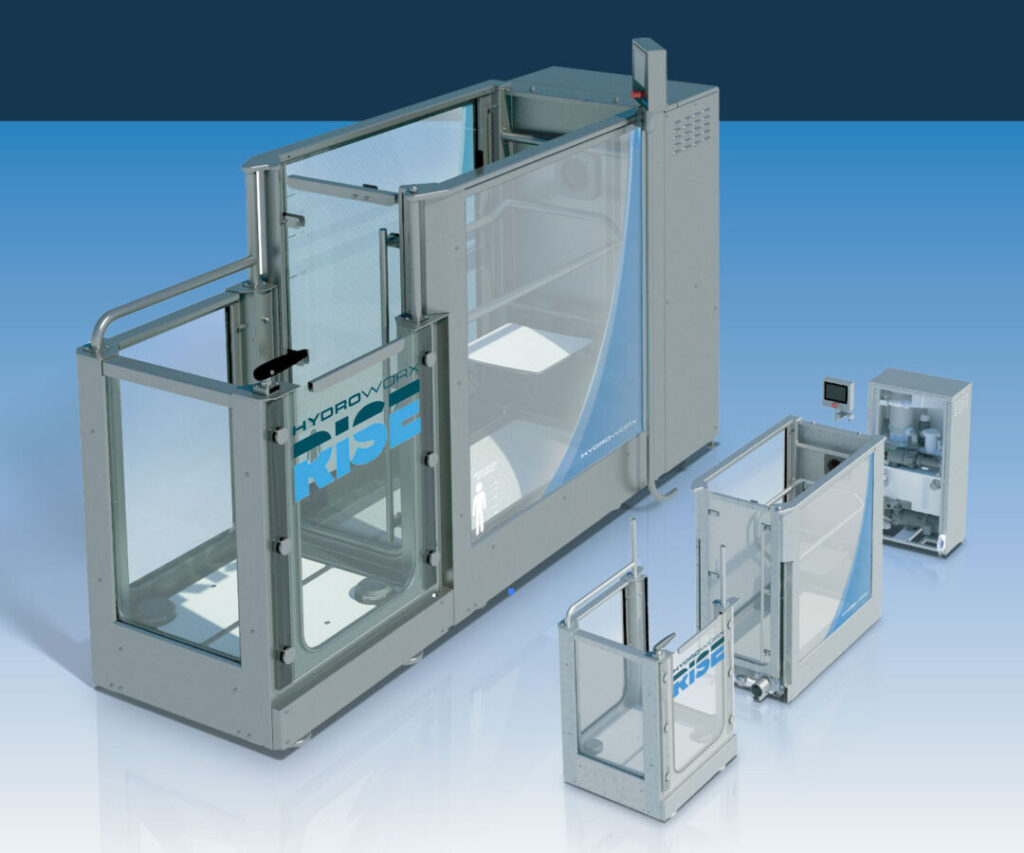 The RISE is the start of a new era in aquatic therapy technology. This is the first time a free-standing hydrotherapy product was designed with ease of delivery and accessibility in mind.
Meghan Doolittle, Marketing Manager, has worked in multiple departments within HydroWorx and has played a role in the development of numerous new product designs, updates, and services. With nearly 11 years at HydroWorx, Meghan's thorough understanding of the company's customer base has been vital in crafting the RISE.
"There were a lot of customers who wanted to add hydrotherapy to their facilities, but the only challenge and obstacle was physically getting the unit in their space," says Meghan, "The access route may have been extremely challenging, or they needed to go up an elevator or around a corner. Some of our freestanding products, though compact, were not able to meet that access route demand."
"The RISE concept came into play where the product itself can be delivered and installed in one, two, or three pieces based on the limitations of that space."

Meghan Doolittle, HydroWorx Marketing Manager
Not only does the modular design of the RISE make it possible for nearly any space to be accessed, but the footprint and features are also unparalleled in the industry.
The RISE is only 9'x3', which is just slightly larger than a dry land treadmill. Plus, its entry door and control panel can be configured in several ways, giving more freedom for where and how the product can be positioned in a room.
As the physical therapy and athletic training spaces are always in flux, HydroWorx has developed a reliable process for prioritizing innovation, so our products and services are able to perpetually meet the needs of our customers.
Jane Lawson, VP of Sales, leads the sales team on the front lines, gaining an understanding of the current needs of physical therapists and athletic trainers.
"The fact that the RISE can be delivered in multiple pieces and be configured in a number of different ways is incredibly important because what we've found is that smaller physical therapy clinics, schools, and other existing spaces don't necessarily provide excellent access routes," explains Jane Lawson, VP Sales. "To be able to offer this type of aquatic therapy technology, with the underwater treadmill, variable water depth, resistance jets, and deep tissue hydromassage, in that small of a footprint (that is easy to deliver and install through difficult access paths) was definitely a need!"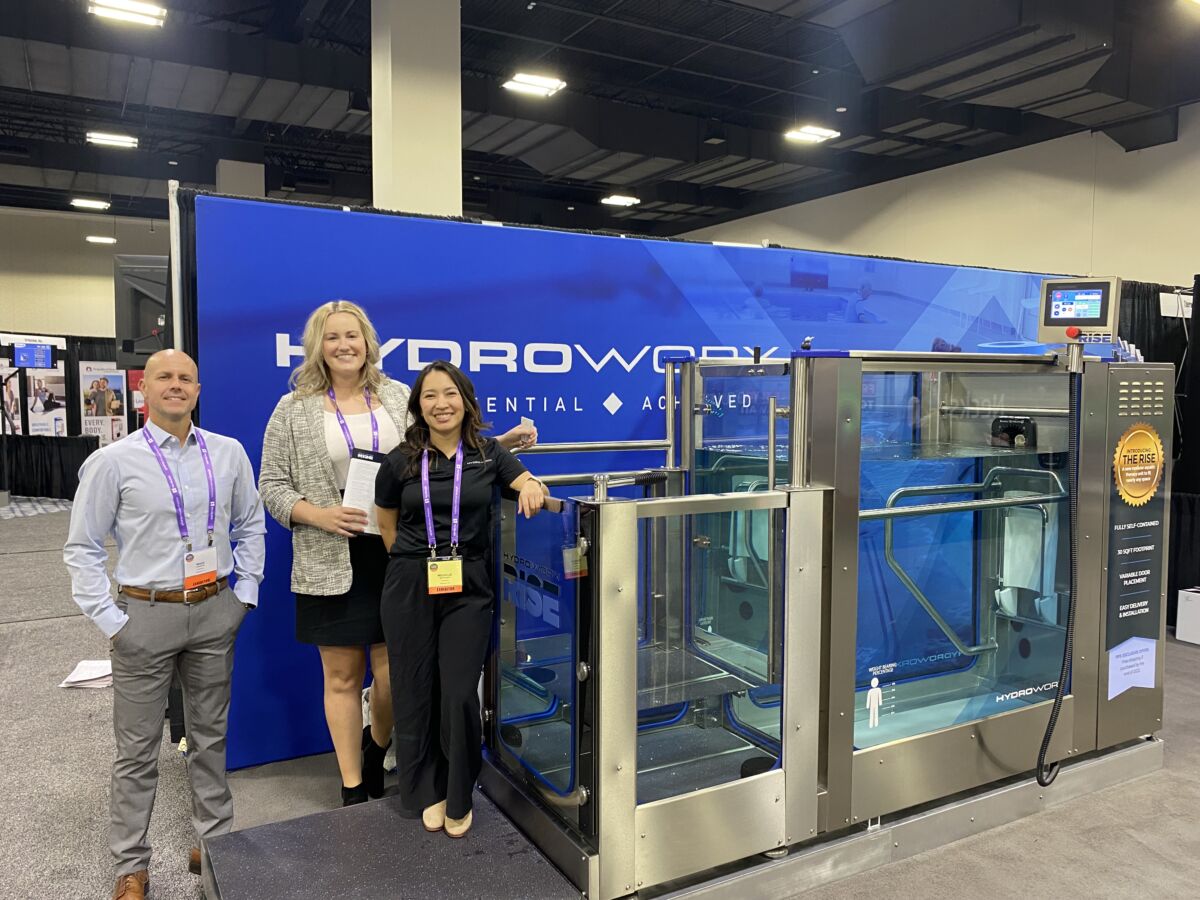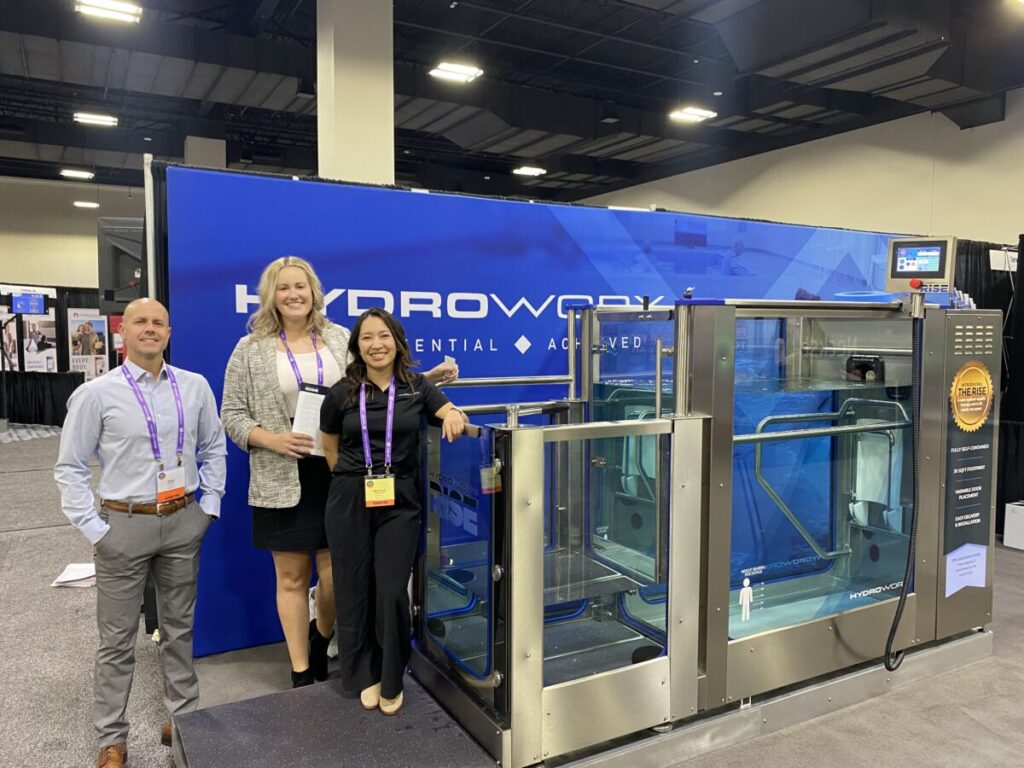 The team's insight, such as the need for a solution like the RISE, is passed along to our new product development team, who collaborate on future HydroWorx projects. This innovation process is always fueled by and was designed to serve our customers.
Dave Stufflet, Director of Engineering and Quality, spearheads the new product development process to keep HydroWorx products relevant to customers.
"HydroWorx makes innovation a priority because it must," says Dave, "We are the technology leader in the industry. Our customers set that expectation for HydroWorx."
HydroWorx has carefully developed a robust product line that takes the company's world-renown aquatic technology and scales it to support new and existing spaces of all sizes. The RISE is just the most recent example of how HydroWorx actively responds to customers' needs, holding the spot as the leader of aquatic technology innovation for over 25 years.
"I'm very excited about the RISE!" shares Barb Levan, President and COO, "Our customers have been asking for it. I'm glad that our new product development team was able to work with our world-class manufacturing facility to come up with this design over the past year. I think that we're going to impact more lives."
If you'd like to learn how to incorporate a HydroWorx RISE into your facility, visit the RISE product page.