Improving Patient Care Starts with Improving Student Education
There's something surprising you don't know about HydroWorx's Western Regional Sales Manager, Michelle Del Rosario. For the past few years, Michelle has been moonlighting as a guest lecturer at her alma mater, California State University Los Angeles.
Her most recent appearance at CSULA was on October 31, 2022. In her lecture, "Rehabilitation Exercise Machines", she spoke with pre-PT students about choosing equipment for rehab and how to make high or low-tech modifications for aquatic therapy based on equipment availability and patient needs.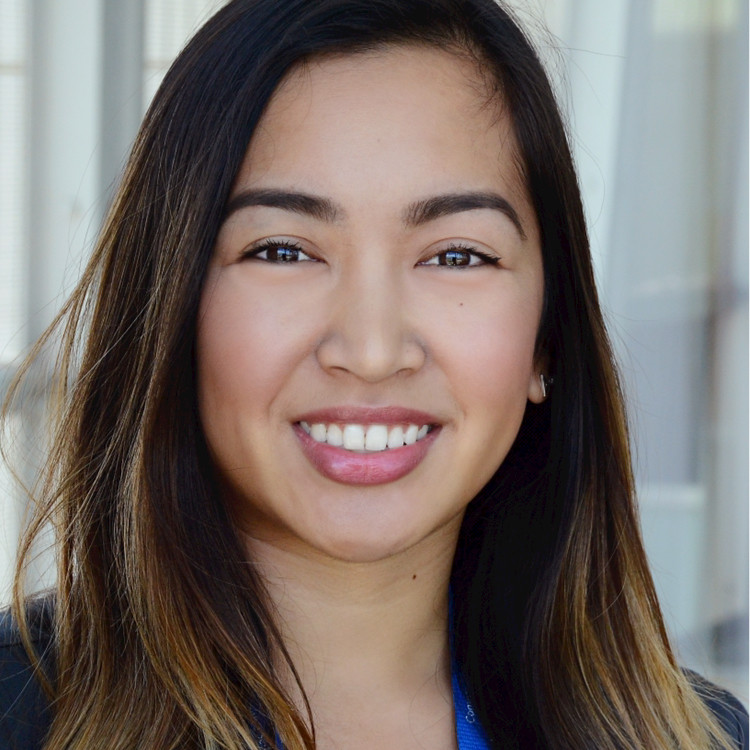 Michelle's hope for the future
When she was a student, Michelle appreciated having the opportunity to connect with guest lecturers. Many of them helped her navigate job transitions, provide insight into patient scenarios, and give general support as she finished school and continued learning in the field.
Michelle has maintained many of the relationships she built with lecturers over the years and still reaches out to them today. She wanted to provide students with the opportunity to receive the same support she received.
"It's important for students to know what they're getting into," says Michelle, "I want to help them be exposed to all the options they have available in healthcare and help find their place."
Michelle has worked in a variety of healthcare environments and roles since she graduated including traveling for OT, clinical liaison, director of rehab, acute care hospitals, and in-patient rehab for cancer patients.
Through this experience, she saw how each role fits together for the healthcare industry to function as a whole. She now has a strong appreciation for every career type, from doctors to medical equipment engineers.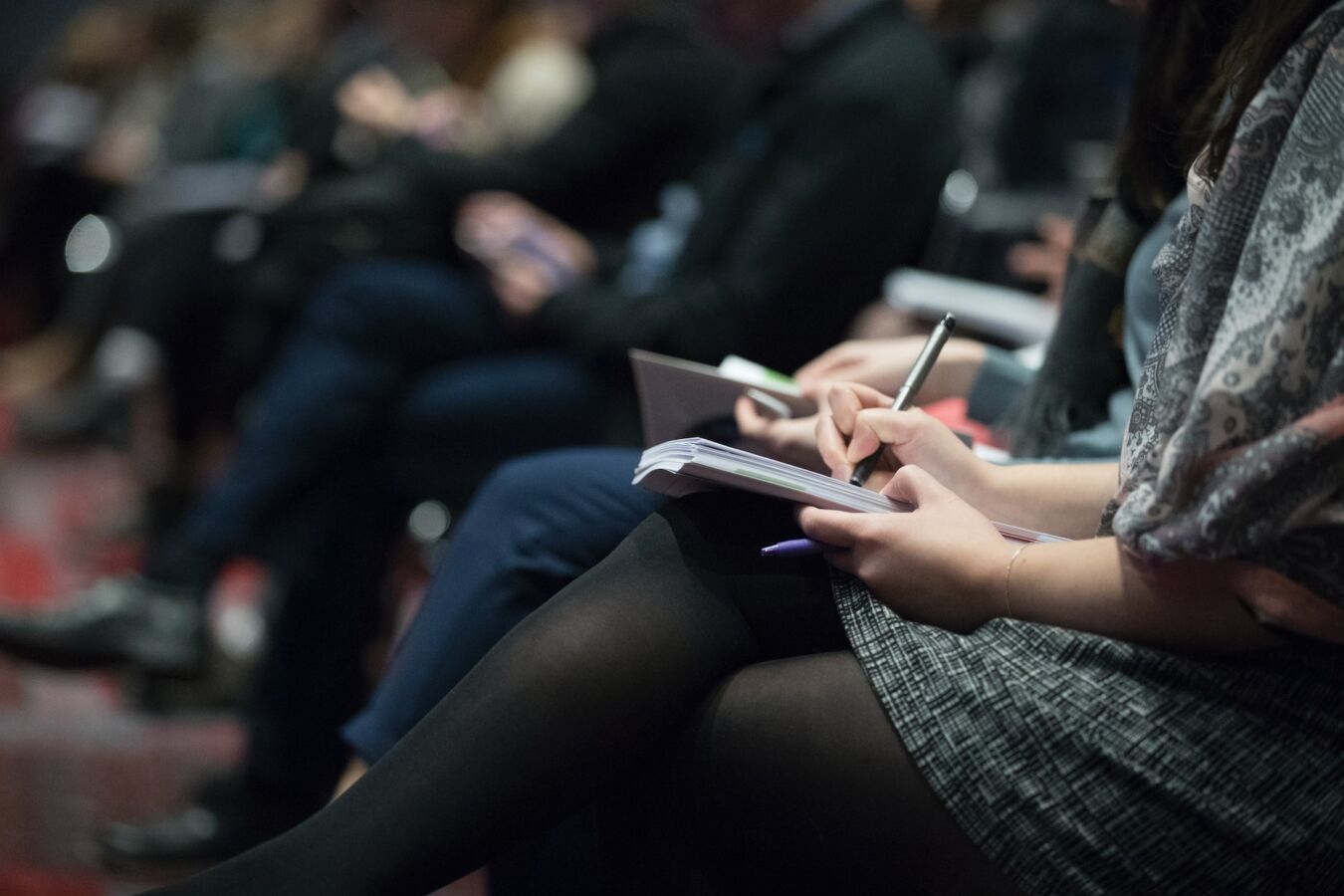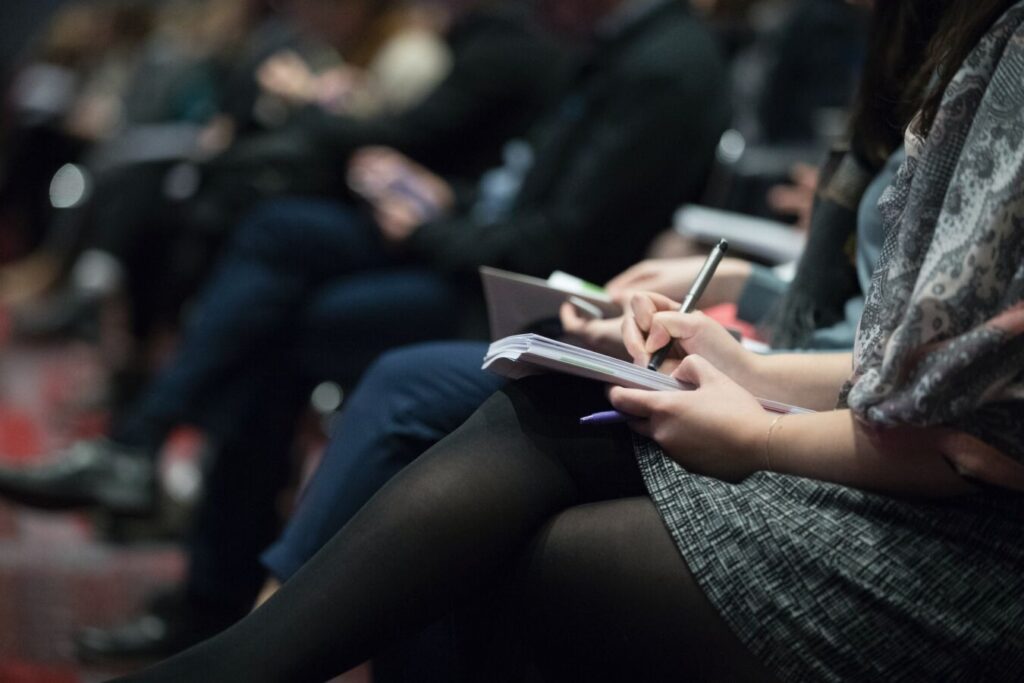 Improving Healthcare Starts with Students
Michelle carefully chose her lecture topic for two reasons:
To educate students about the power of aquatic therapy and how to maximize it with whatever resources are available.
Medical school curriculum typically does not include much material and discussion around aquatic therapy. Michelle hopes to change that by spurring more conversations about the power it can provide in the rehab and recovery process.
By presenting students with information about aquatic therapy early in their careers, they can be better equipped to provide future patients with more successful rehab programs and advocate for aquatic therapy program support.
To expose students to the vast healthcare career types including healthcare sales, equipment engineering, and research.
Most undergraduate students don't consider the wide variety of career paths available in the healthcare industry. Many think about going on to specialized programs for PT or OT, but aren't aware of the plethora of important supporting roles for those careers until they are working in the field.
By bringing attention to the diversity in healthcare career options, students may realize an even better-suited role for their skills and interests than their original plan, or find a second option (that they're equally passionate about) in the event that they're not accepted to their desired graduate program.
In either case, exposure to the vital web of healthcare careers helps students understand the importance of connecting with professionals from all angles to provide a well-rounded support system for themselves and their patients.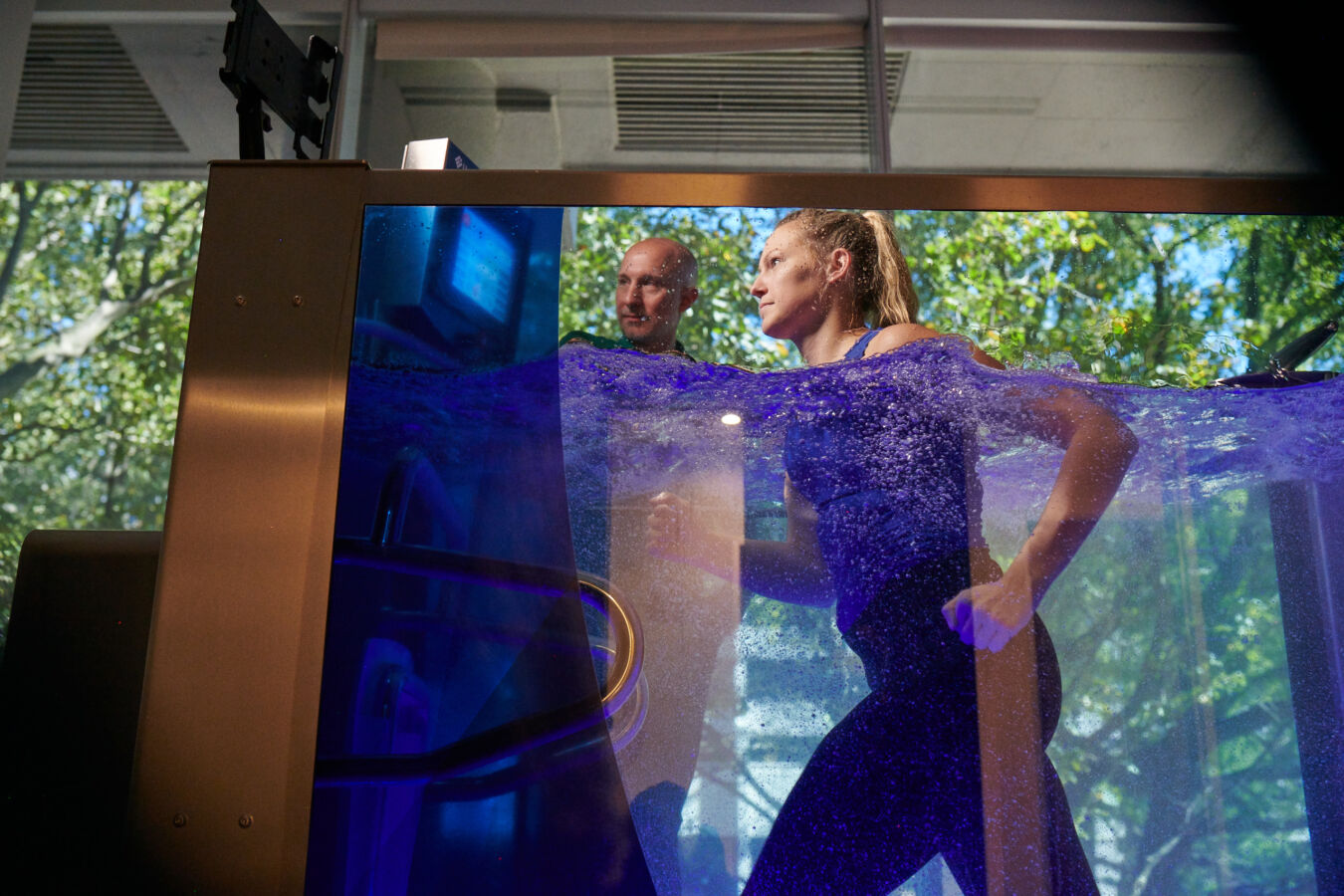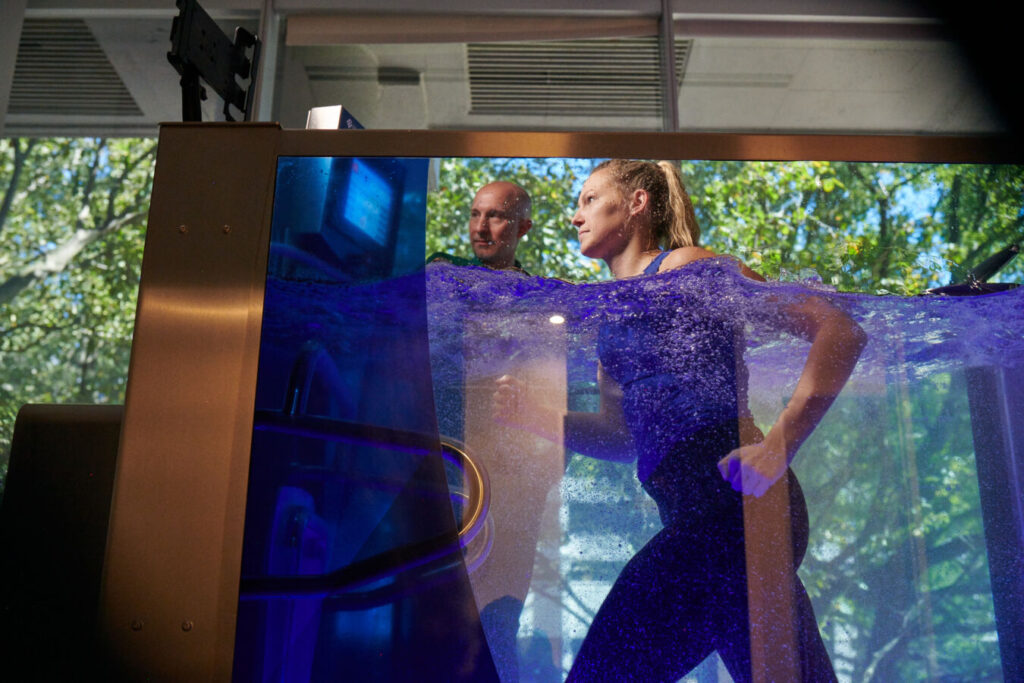 Seeing is Believing: A First-Hand Experience of Water's Power
Michelle's engaging lecture included a mix of sharing foundations about aquatic therapy benefits, stories from her personal experience, real-life aquatic therapy patient case studies, introducing students to hydrotherapy equipment, and hands-on activities.
How water can improve mobility
One activity explored the impact of water temperature on mobility. Most aquatic therapy pools have the ability to regulate water to a static cold or warm temperature. Both of these environments can be healing, depending on the patient's needs.
To experience the difference in impact, Michelle placed warm water in one container and cold water in another. She then had students place a hand in each pool of water for 45 seconds, then directed them to make a fist.
With this exercise, students felt how warm water naturally creates a relaxing and soothing environment for increased mobility.
How water can help build strength
In another activity, Michelle helped students experience the power of water's buoyancy. She filled a container with room-temperature water and placed a weight in the container. She asked students to lift the weight in the water and then lift the weight outside the water.
With this activity, students learned how water's buoyancy can be used to help patients unweight for exercise to reduce the impact on injured joints or muscles. They also felt the resistance created as they moved through the water, which can be used to help patients build strength safely.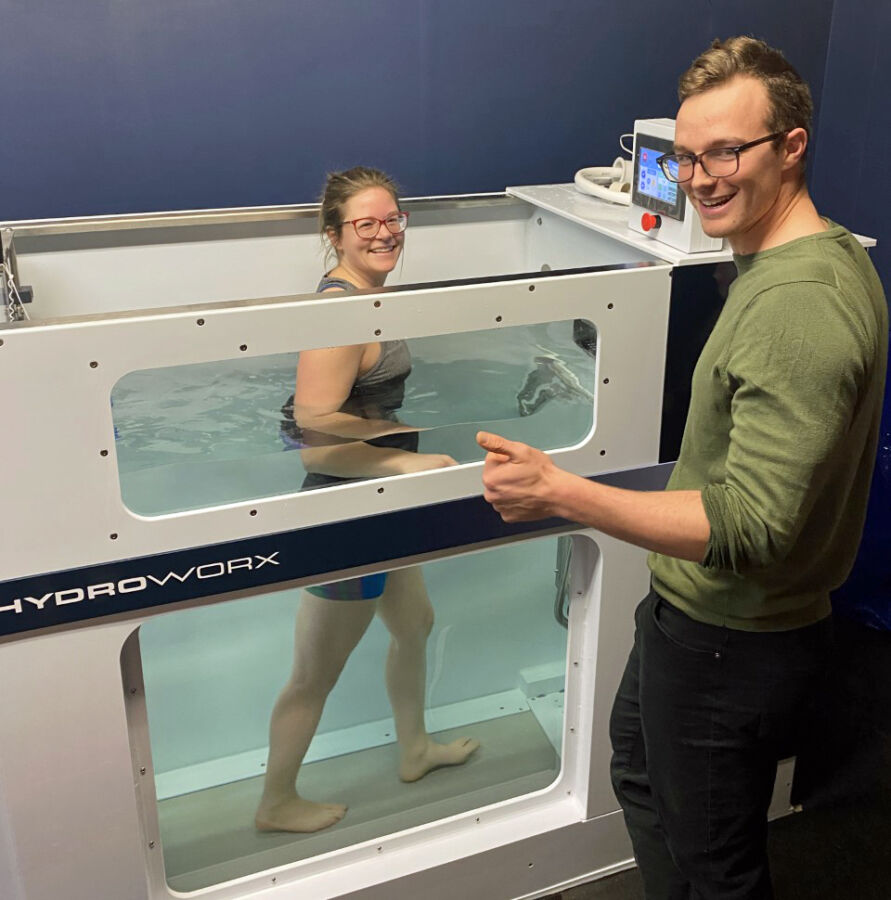 Patient Success Stories
Michelle showcased multiple patient stories using HydroWorx pools. She explained how aquatic therapy programs can be successful by simply using water's natural properties (buoyancy, hydrostatic pressure), adding low-tech aids (floatation belts, water weights), or maximizing with advanced technology (underwater cameras, underwater treadmills).
The passion behind the product
Additionally, Michelle gave students an inside look at all the roles that are necessary for designing, developing, and crafting HydroWorx products. This exploration reiterated how someone with a mind or talent for engineering, business development, or carpentry can still have a powerful impact on patient lives.
HydroWorx's robust team relies on the knowledge and skills of each field of specialty including engineering, service, and logistics.
Changing the Future of Aquatic Therapy
HydroWorx is honored to support Michelle in her endeavors and all of our team members' efforts in the aquatic therapy industry at large. As a company that values innovation and is customer-centered, what better way to change the future of aquatic therapy than to connect with the next generation of professionals who will use our products to help patients and athletes with healing and recovery?
Connect with our team
With a BS in kinesiology, a specialty in rehab and therapeutic exercise, a master's in OT, and MBA, Michelle has become an invaluable member of the team! Her background in healthcare creates natural connections with our customers and can easily provide personal insight into their challenges.
Each of our team members has their own powerful story of connection to our mission at HydroWorx. If you're a physical therapist or Athletic Trainer looking to expand or start an aquatic therapy program, you can connect with our passionate team by scheduling a consultation call to find out the next best steps for you.