Football Training Camps: Now in Session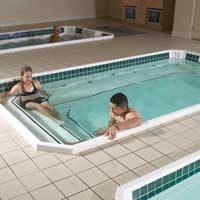 Yes, it's that time again, and (in the catchy lyrics sung by Hank Williams, Jr.) we're all ready for some football!
Of course, football training camps aren't just buzzing with eager and able athletes; they're also buzzing with sore athletes.  After all, you can't spend your days practicing intensely for the upcoming high school, college or pro season without experiencing some muscle aches along the way.
Enter HydroWorx's plunge pools, one of the ways that savvy coaches keep their football players in the action and in tip-top condition. According to Steve Nordwall, MA, ATC, Eastern Michigan University:
Our new HydroWorx Polar Plunge has been a great addition to our program. The pool allows for better recovery from practice  and has been an important part of our post practice  daily in camp.  We are very happy with the pool and have really seen the positive benefits of its daily use.
If you're not familiar with plunge pools, it's fairly easy to understand why the cold-water PolarPlunge and the hot-water ThermalPlunge are becoming football players best "friends"!
Kept at a therapeutic temperature of 50 degrees, the PolarPlunge is the ideal method for athletes to control joint inflammation and enhance recovery in a revitalizing environment, post-workout.  Jets can be used to massage and trigger "pressure points".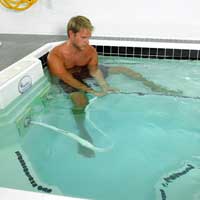 On the other side of the coin, the ThermalPlunge stays at a temperature of 94-104 degrees.  This temperate has been shown to relax tight muscles and stimulate the release of the body's natural endorphins.  Massage hoses connected to jets can be utilized to provide deep tissue therapy.
But how does plunging into super-cool and super-warm water feel after a tough day on the grid?  According to the athletes (representing a multitude of sports, we might add) that we've interviewed over the years, absolutely fantastic!
As football teams gear up for the coming season, we wish them much success and encourage them as they "plunge on"!  We'll be ready with our stadium blankets, tail-gating equipment and crazy body paint when they hit the field!