Tips for Designing a New Facility Featuring Hydrotherapy
Adding hydrotherapy to your facility can seem like quite an undertaking with several factors to consider. Having gone through the process himself, Randy Cohen, University of Arizona Athletic Trainer and Associate Director of Athletics, recently shared some practical tips for effective hydrotherapy pool room design.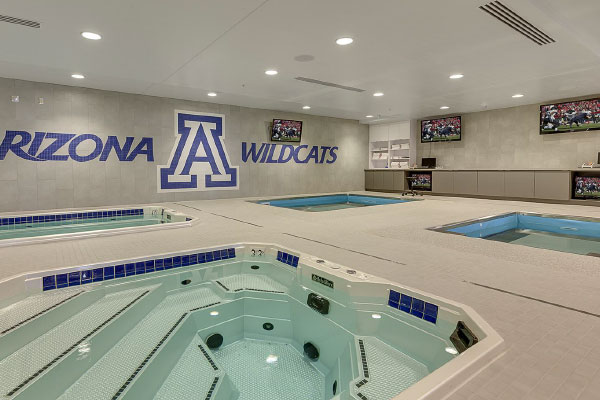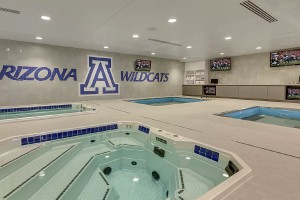 Design Tips
Randy Cohen was gracious enough to show off their well-equipped hydrotherapy-related rooms in this video. During the informal tour, he provides several excellent tips for those thinking about adding onsite aquatic therapy to their menu of services:
Privacy Rules. Make sure you have an open, secluded area where patients and physical therapists can meet and work. The distractions will be minimized, and the care will be improved.
Drainage Counts. Having a therapy pool requires a plan for how to effectively drain the water that inevitably gathers on the floor when athletes and patients step out of the pool. Randy suggests trenches that circle the pool to gather as much water as possible. Although sloped floors can work, they are difficult with multiple pools in the same room.
Shine Your Light. Not only is the right kind of lighting important for safety and overall care, but it allows physical therapists and trainers to demonstrate more clearly how patients should be moving in the water. Additionally, it provides a great ambiance when you're showing off your pool!
Clear the Air. Ventilation is a critical component of an aquatic therapy space. Different environments are going to need different ventilation devices, so work with a professional to ensure your hydrotherapy room isn't too humid.
Go High Tech. Today's therapy pools can be mounted with underwater and above-water cameras attached to large TVs that show a variety of angles. This allows for maximum real-time feedback during sessions and classes. One note: Make sure any computerized equipment is in a place where it will stay dry, like a closeable cabinet.
Easy In/Out. Your aquatic therapy patients won't enjoy traipsing through your facility to find the nearest restroom or locker room. Keep this in mind when designing the layout of your pool space. The easier you make it on your clientele, by keeping changing rooms adjacent to the pool room, the more likely they are to come back.
Make Maintenance Handy. Most facilities have a place below the therapy pool, such as a crawl space, that allows maintenance access. However, if you can create a larger room below the pool, you'll not only be able to maneuver more easily below your therapy pool, but you'll have the benefit of another storage location. At the University of Arizona, Randy can access a stairway to get to a room underneath their HydroWorx.
Pump Up the Music. Don't forget that music can be a great motivator, especially for first-timers who might exhibit trepidation about hydrotherapy. Add speakers in the pool room to create a soothing, fun atmosphere by providing the right tunes to accompany your aquatic tasks.
Watch Randy as he gives a quick tour of one of the hydrotherapy rooms at the University of Arizona in Tucson, AZ.