Case Study: Hydrotherapy For Children With Special Needs
Kate and Joe Lundgren knew they had to do something.
In the late 1990s, both of their beautiful baby boys had been diagnosed with Autism. Trenton with Asperger's Syndrome and Spencer, Pervasive Developmental Disorder-Not Otherwise Specified (PDD-NOS).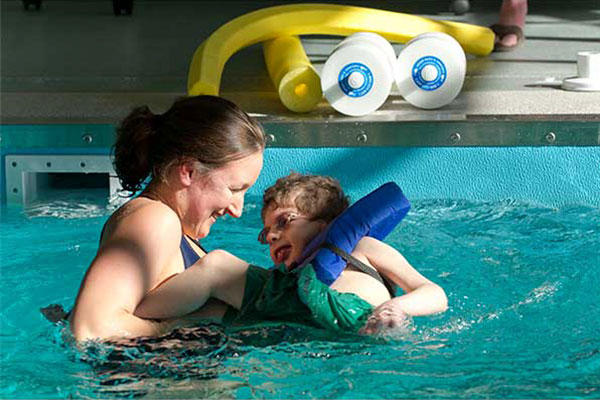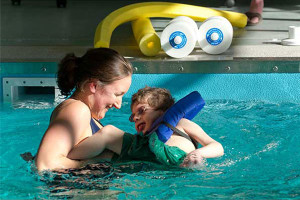 Kate, a seasoned occupational therapist, and husband Joe dove in. They began learning about their sons' diagnoses, the field of Autism, and what this meant to the future of their family. Kate quickly developed an all-inclusive treatment plan for the boys based on her experience. The treatment plan included Applied Behavioral Analysis, Speech, Occupational Therapy Intensive Programs, Interactive Metronome, The Listening Program/Bone Conduction, Fine and Gross Motor Skills training, visually-based therapies, and much more. Day by day, two dedicated parents built a knowledge base that would one day affect thousands of families that also included children with special needs.
Kate, who'd previously worked for a Texas public school system, worked in private practice at the time with "a gifted therapist who helped shape and mold my skills," says Kate. The practice focused on pediatrics, the discipline which had increasingly become Kate's overwhelming passion. She was also passionate about addressing the soft-side of therapy; customer service, clinic vision, and parent nurturing.
Cutting Edge
Kate and Joe took action. In 2013 they opened their own clinic—Cutting Edge Pediatric and Adult Therapy (CEPT) in Allen, Texas, specializing in children with special needs, spectrum-related disorders and sensory integration dysfunction. They started with three part-time OTs and no insurance contracts.
Now, in 2018, they offer PT, OT and Speech Therapy, have nearly 50 employees, three clinics (Allen, Mansfield, and Katy, TX) and are designing a brand-new facility to serve Allen. The Lundgren's believe that a unique combination of individually-designed interventions provides the necessary stepping stones toward reorganizing the client's nervous system, thus allowing for adaptation and "maximum level of function."
As part of the new Allen location, Cutting Edge will offer aquatic therapy via a HydroWorx 500 underwater treadmill system. The HydroWorx 500 offers a variable speed underwater treadmill with a cushioned, low-impact design, underwater cameras and viewing monitor to enhance diagnostic capacity, and resistance jet with therapeutic massage hose. The decision, say the Lundgrens, to utilize the HydroWorx 500 came after intense research, seeing a HydroWorx  pool in action in North Dallas, and the realization of four core facts:
Water produces buoyancy. Water acts as a counterbalance to the force of gravity and, reduces impact on joints. This property is extremely helpful for patients with limited mobility and joint stiffness.
Water provides a sensory-rich environment. From textures to temperatures, water provides clients with amazing sensory experiences, contributing to the development of fine and gross motor skills, language development and problem-solving.
Movement is more fluid in the water. Warm water provides a relaxing and soothing environment for tight muscles, letting therapists gently manipulate the client through the desired exercise.
Underwater treadmills assist gait and locomotion training unlike any other modality. The underwater treadmill allows a more natural gait pattern to occur in the water as opposed to in a static pool. Those proper biomechanics that are created in the unweighted environment carry over to land movements.
Water creates visual challenges. Water provides refraction and decreases dependence on visual cues and causes dependence on the proprioceptive system instead. This reliance on the proprioceptive system creates kinesthetic challenges and a sensory rich environment.
To Kate and Joe and their dedicated staff at Cutting Edge, we offer our sincere congratulations. We are honored to be part of your team, bringing help, hope and healing to the families you serve.