Combatting Drop Foot with Aquatic Therapy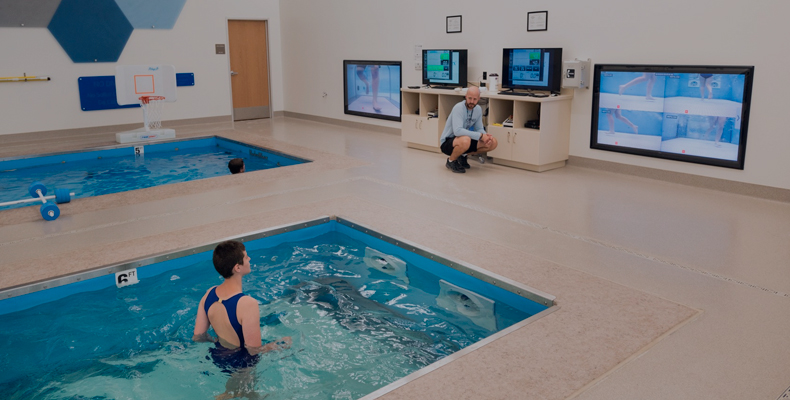 Irene knew she was in the right place as soon as she walked into the doors of Georgia Physical Therapy. After developing drop foot as a result of excessive walking, she constantly had back pain, to the point that it affected her everyday life. Drop foot, a general term for difficulty lifting the front of the foot which causes it to drag while walking, has the potential to create a series of other subsequent complications. It is also normally an indicator of a greater underlying problem. The main causes of drop foot are nerve injury, muscle disorders, or brain and spinal disorders. Without proper attention and care, drop foot can eventually lead to issues with the hips and lower back.
Request a Free Info Kit View Our Products
Initially, Irene's doctor recommended neuro-surgery and a series of prescription medicines in an effort to combat her condition. She was uncomfortable with both options and found a better alternative. Georgia Physical Therapy has multiple locations within the state where they have helped many lives using aquatic therapy. The specialists at Georgia Physical Therapy chose to ease Irene into aquatic therapy and she immediately loved it. Irene was eager to continue her work in the pool for the sense of comfort and stimulation she felt in the warm water.
After about six months of visiting Georgia Physical Therapy, both Irene and the physical therapists noticed a significant difference in her gait and most importantly her pain level. Health care specialists are able to evaluate gait patterns through the video monitoring system in the HydroWorx pool. The pool enabled Irene to rehabilitate in ways that she would not have been able to do on land because of her injury and risk of falling.
The Oswestry Disability Index, a tactic often used by back and spine specialists, is an approach for determining and assessing lower back pain. When she first visited Georgia Physical Therapy, Irene was at about 56% on the index, which is considered a "severe disability." Severe disabilities normally entail persistent pain and difficulty performing activities of daily living. After just six months of aquatic therapy, her score on the Oswestry Index dropped to 20%, which is only considered a "moderate disability". Those with a moderate disability are defined by pain while lifting, standing and sitting, but other parts of life are not as critically affected. Without aquatic therapy, Irene may not have experienced the notable progress she made during her time at Georgia PT.
Irene is just one of the millions of people who utilize physical therapy every year in the United States due to some type of injury or disability. Thanks to a nearby HydroWorx customer, Irene was able to begin aquatic therapy to avoid other invasive types of treatment. Aquatic therapy was an excellent starting point in an effort to alleviate her drop foot. She will continue the process of recovery to improve her gait and hopefully live a pain-free life.
To learn more about the 5 Ways Aquatic Therapy Impacts Rehab, download our tip sheet>>
Frequently Asked Questions About Physical Therapy and Drop Foot
HydroWorx enables clinicians to utilize superiorly designed aquatic therapy pools and products to assist in physical rehabilitation and wellness. These products help with various conditions and symptoms, including drop foot. Here are answers to two of our most common questions about physical therapy for foot drop.
What Is Drop Foot?
Foot drop — or drop foot — refers to difficulty lifting the front section of the foot due to paralysis or muscle weakness. The condition may cause the foot to be dragged when moving. It is not classified as a disease and may have several underlying causes, whether chronic or short-term.
Does Physical Therapy for Foot Drop Work?
Aqua therapy can assist in strengthening muscles in the lower limbs and relieving the pain associated with drop foot. Physical therapy helps maintain the range of motion in ankles and knee joints. For that reason, it may relieve subsequent complications of foot drop. Many clinicians find aqua therapy beneficial for foot drop due to its high client satisfaction and adherence to the physical therapy treatment protocol.