Aquatics' Role in Basketball Rehab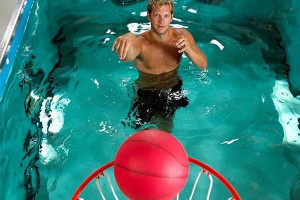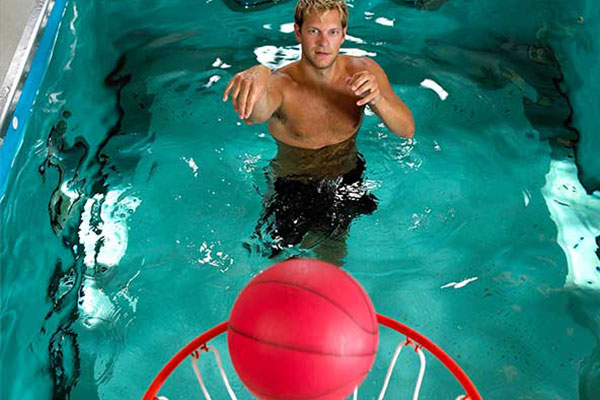 What comes to your mind as you think about March? It probably depends on your age, geographical location, and love level for the game of basketball.
What started in 1939 with eight men's basketball teams has now grown into a massive field of 68 for the 'big dance." Fan interest in this championship tournament grew in the 1970s and exploded in the 1980s. CBS broadcaster Brent Musburger first used the phrase "March Madness" in 1982, a term coined years earlier by an Illinois high school basketball referee. Now it transcends sports and penetrates pop culture; every able American must fill out their brackets!
Through the years, HydroWorx has played a role for many teams as they've prepared for the grueling, end of the season battle for the top spot.
Water worx in Durham
In 2015, Duke University had a stand-out player who suffered an ankle injury mid-season. A major focus of his rehabilitation was performing exercises in the HydroWorx pool at Duke under the care of the athletic training staff. He had used the pool in the past as a vehicle to obtain additional conditioning on top of his regular workouts, so he was previously familiar with the pool's intrinsic benefits. Two days after spraining his ankle, this athlete began aquatic therapy treatment, including walking on the integrated underwater treadmill.
Jose Fonseca, MS, ATC, LAT, and Duke University's director of athletic medicine explained: "If you use all the options at your disposal in a creative, safe way, you can truly achieve great and unexpected results. Not only did the HydroWorx pool contribute to his ability to heal much faster than expected, it allowed him to maintain a consistent, healthy gait during recovery. This athlete would not have been able to return to play in the same fashion or in the same timeframe without the pool."
Ankle arthroscopy rehab
Jeff Boyer, athletic trainer for the University of Virginia, worked with the men's basketball team and utilized the HydroWorx 500 Series, PolarPlunge and ThermalPlunge pools.
"An athlete who had his ankle scoped started training in the pool about a week after surgery. We worked on intrinsic foot movement using the hand rails at first. He progressed to walking, emphasizing the heel-toe gait. Then we progressed to jogging, double leg jumps, back peddling. Then we started more intensive jogging and sprint intervals, just trying to get him ready to basically do the same things on the court. We utilized the 50% non-weight-bearing environment to begin this rehab process to get not only his ankle, but the rest of his body used to running, cutting and jumping again, everything he needs to do on the court.
"The main result from the pool conditioning and rehab was a reduction in pain. He was able to move pain-free allowing him to get back on the court sooner than it would have been possible without the pool."
Building cardio
Kylea Sheley, trainer for the University of South Dakota, advocates the use of aquatic therapy for her student-athletes.
"The HydroWorx pool is one of our favorite pieces to show off to people as they come through our facility," said Sheley. "Our prospective student-athletes see that we're working with cutting edge technology and want to come to a place that invests in their health.
"One of my favorite case studies with the pool is a rehab experience with one of our basketball players. She experienced over seven knee surgeries during the course of her career. She'd been through the ringer! We utilized the pool with her last surgery before she headed into her last year of eligibility. This allowed her to condition herself before she was full weight-bearing."
Sheley noted that this athlete worked so vigorously in the pool that when she was cleared for weight-bearing activity, she was fully ready to practice on the court, having lost no cardiovascular endurance.
Using the pool for plyometrics
Curtis Self and Ben McNair, Creighton University athletic trainers, have their athletes try cuts, jumps, slides and sprints in the HydroWorx pool before testing an injury on land.
"We use the pools to get our athletes back on the court: two-leg jumping, one leg jumping, jogging. We start with the pool then bring them to land. Many of our athletes, because of injury history, prefer to condition in the pool. For straight cardio purposes the pool works great. Sometimes we use the pool static when we're trying to do some angles or defensive slides, or we'll put the treadmill floor at a really low speed and simulate, for a few steps, the motion of a layup. That gives them a little practice in accelerating into a jump in a safe environment first."
The madness starts Tuesday, March 19 and ends with the championship game on Monday, April 8. During the tournament, when you see a previously injured athlete nail a three, lead a fast break, or drop points on the foul line, realize this: aquatic therapy may have played a role in his rehab!
For more uses of the HydroWorx pools for hardcourt athletes, please visit: