Hydrotherapy for Basketball: Athletic Trainers Share Their Stories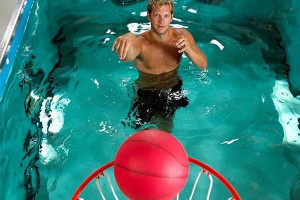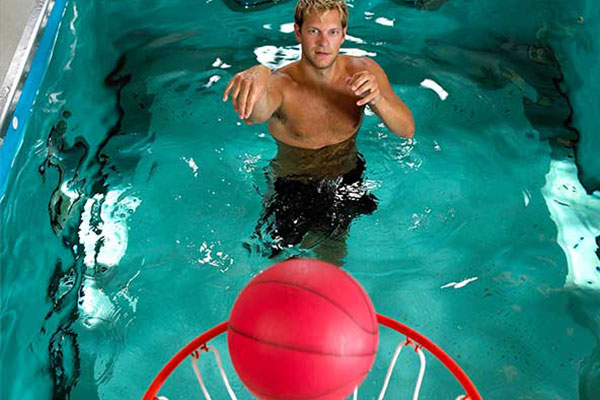 What recovery strategies do athletic trainers use to keep basketball players on top of their game? How do athletic trainers structure rehab programs for injured basketball players? Which actions can be taken to prevent future injuries? How can players stay in shape while recovering from injury?
All of these questions can be addressed by answering this one question:
How are athletic trainers using aquatic therapy for basketball players' rehab and recovery?
In this article, we'll hear from multiple athletic trainers as they tell stories of how they are using aquatics to maximize performance and safely speed up recovery for basketball players. Plus, we'll share which hydrotherapy pools are favorite among our basketball facility customers.
Six ways athletic trainers use hydrotherapy for basketball:
Faster, Safer Recovery
A Duke University stand-out player suffered an ankle injury mid-season. A major focus of his rehabilitation was performing exercises in the HydroWorx pool at Duke under the care of the athletic training staff. He had used the pool in the past as a vehicle to obtain additional conditioning on top of his regular workouts, so he was previously familiar with the pool's intrinsic benefits. Two days after spraining his ankle, this athlete began aquatic therapy treatment, including walking on the integrated underwater treadmill.
Jose Fonseca, MS, ATC, LAT, and Duke's Assistant Director of Athletic Medicine/Head Men's Basketball Athletic Trainer explained,
"If you use all the options at your disposal in a creative, safe way, you can truly achieve great and unexpected results. Not only did the HydroWorx pool contribute to his ability to heal much faster than expected, but it also allowed him to maintain a consistent, healthy gait during recovery."
This athlete would not have been able to return to play in the same fashion or in the same timeframe without the pool.

Jose Fonseca, MS, ATC, LAT
Interval Training
Jeff Boyer, Associate Athletic Trainer (Men's Soccer, Men's Golf) for the University of Virginia, previously worked with the men's basketball team and utilized the HydroWorx 500 Series, PolarPlunge and ThermalPlunge pools.
"An athlete who had his ankle scoped started training in the pool about a week after surgery. We worked on intrinsic foot movement using the handrails at first. He progressed to walking, emphasizing the heel-toe gait. Then we progressed to jogging, double leg jumps, back peddling. Then we started more intensive jogging and sprint intervals, just trying to get him ready to basically do the same things on the court. We utilized the 50% non-weight-bearing environment to begin this rehab process to get not only his ankle, but the rest of his body used to running, cutting and jumping again, everything he needs to do on the court.
The main result from the pool conditioning and rehab was a reduction in pain. He was able to move pain-free allowing him to get back on the court sooner than it would have been possible without the pool.

Jeff Boyer, ATC, CSCS
Conditioning Drills
This is an amazing segment of basketball drills developed by Dr. Tim DiFrancesco, Physical Therapist, Certified Athletic Trainer and Certified Strength & Conditioning Coach at Peak Performance Physical Therapy in Swampscott, Massachusetts. Sessions take place in HydroWorx pool.
Cardio Maintenance
Kylea Sheley, Assistant Athletic Trainer (Football) trainer for Drake University, advocates the use of aquatic therapy for her student-athletes.
"The HydroWorx pool is one of our favorite pieces to show off to people as they come through our facility," said Sheley. "Our prospective student-athletes see that we're working with cutting-edge technology and want to come to a place that invests in their health.
"One of my favorite case studies with the pool is a rehab experience with one of our basketball players. She experienced over seven knee surgeries during the course of her career. She'd been through the ringer! We utilized the pool with her last surgery before she headed into her last year of eligibility. This allowed her to condition herself before she was full weight-bearing."
Sheley noted that this athlete worked so vigorously in the pool that when she was cleared for weight-bearing activity, she was fully ready to practice on the court, having lost no cardiovascular endurance.
Lower Leg Injury Recovery
Keith Garnett, MS, ATC, LAT, NASM-PES, CES, Athletic Trainer at Texas Tech, shares some of the exercises he used to rehab one of his basketball athletes.
Plyometrics
Curtis Self and Ben McNair, Creighton University athletic trainers, have their athletes try cuts, jumps, slides and sprints in the HydroWorx pool before testing an injury on land.
"We use the pools to get our athletes back on the court: two-leg jumping, one-leg jumping, jogging. We start with the pool and then bring them to land. Many of our athletes, because of injury history, prefer to condition in the pool. For straight cardio purposes, the pool works great. Sometimes we use the pool static when we're trying to do some angles or defensive slides, or we'll put the treadmill floor at a really low speed and simulate, for a few steps, the motion of a layup. That gives them a little practice in accelerating into a jump in a safe environment first."
Which hydrotherapy pools are best for basketball athletic facilities?
As with any facility, the best hydrotherapy solution for your facility will be dependent on your needs and goals. However, many of our basketball facility customers appreciate the features of these HydroWorx pools:
HydroWorx 2000: This pool offers extreme versatility, as the largest moveable underwater treadmill available worldwide. With 0"-6' variable water depth capability, the 2000 is great for taller players.
HydroWorx 3500: The 3500 provides valuable options for athletic training staff. Choose from a deep well, dual underwater treadmills, multiple floor levels, and more.
Rejuvenate Plunge: These hot, cold, or combo plunge pools can be configured in multiple-sized layouts, making it simpler to find the perfect fit for your facility.
With a dozen hydrotherapy solutions to choose from, our team will help you find the best HydroWorx solution for your facility.