Aquatic Therapy Proven Rehab Strategy for Common Collegiate Football Injuries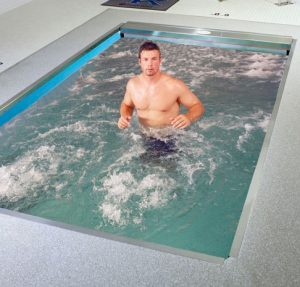 Shoulders. Legs. Knees. Ankles. Hamstrings. They're all fair game when it comes to the most commonly-seen football injuries, according to a Kitman Labs report referenced by a recent article. That so many parts of the body are targets for problems should come as no surprise to anyone who has ever played or even watches football. Football is a contact sport, after all, and the contact is anything but gentle.
A quick look at the most up-to-date numbers for NCAA football injuries across the United States confirms that the stats from the Kitman Labs report are pretty accurate. Taking LSU as an example, as of the end of September, there have been three reported ankle injuries, a leg injury and an ACL injury. Serious? Absolutely. Most of the players on the injured list for LSU are out for the season.
What those numbers don't show is that advanced therapy methods, namely aquatic therapy, can help shorten the length of time injured players spend off the gridiron. LSU is a prime example. The university has access to their own HydroWorx therapy pool, complete with underwater treadmill floor and resistance jets, which may turn out to be a secret weapon for players who have suffered injuries during play or practice.
How effective can rehabilitation in a water environment be? A study conducted by Mary E. Sanders and Baryl Lawson described results of 20 patients who had undergone reconstructive ACL surgery, and who randomly went through either land or water exercise recovery programs. The water-based rehab group had greater minimization of joint effusion, greater self-reports of functional improvements, greater muscle girth around the ACL site and better range of motion. When combined, these results led to a reduced likelihood of re-injury upon return to play for athletes.
Not every college football team currently has direct access to HydroWorx equipment. For those that do, it may mean the difference between having a depleted roster of exceptional players and being able to safely get athletes back in the game. In fact, in order to learn how to take advantage of the benefits of aquatic therapy, some schools' athletic trainers have begun to attend events including educational webinars, such as "Incorporating Aquatic Therapy into Functional Rehab for Return to Play Protocols and Progressions" led by Rod Scott of the Jacksonville Jaguars.
The goal for every university-based football team is simple: Prevent players from getting injuries while having a back-up plan for inevitable injury occurrences. If aquatic therapy can play an active role in the strategic methodology to keep athletes healthier after football injuries, it definitely needs to be considered across the board.
Download our tip sheet, "How water enhances rehabilitation for ACL recovery" today>>