8 Patient Benefits of the HydroWorx Pool at Saluda Nursing Center in South Carolina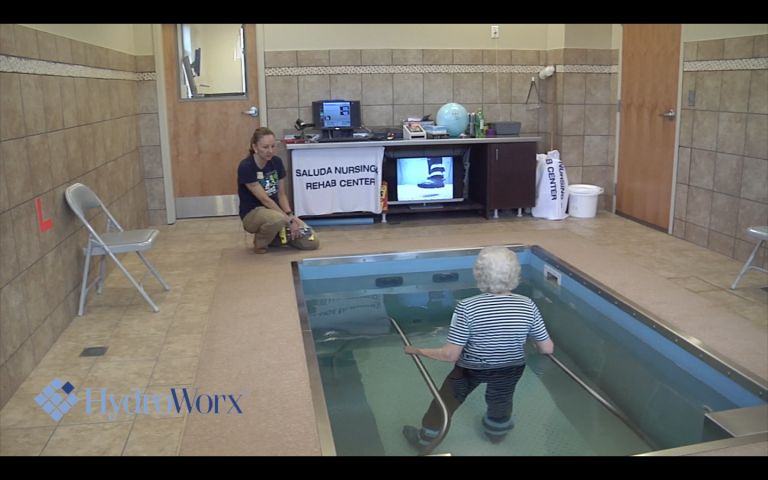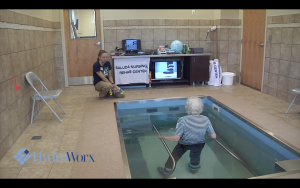 Anyone who works with the senior population knows that clientele who are in their 60s and older encounter numerous health and social challenges. Seniors regularly face balance issues, post-surgical recovery, limited mobility, daily discomfort (from arthritis, osteoporosis, etc.) and stroke recovery. At the same time, they want to be able to stay as independent as possible, travel and remain active, keep up with the tasks of daily living and keep their overall standards of life high.
At Saluda Nursing Center in South Carolina, Diana Perez, DPT, regularly works with clients who want to improve their abilities through physical therapy but are concerned about pain, have a fear of falling or believe that it might be impossible for them to regain adequate function. To ease their worries and promote a healthier lifestyle, Perez and her team use their HydroWorx therapy pool to effectively treat seniors at all stages and representing all ability levels.
Since Saluda Nursing Center began using their HydroWorx pool, the facility has documented the following eight patient benefits:
#1 – Patients Appreciate the Instant Feedback
As one 91-year-old client said during an interview set at the therapy pool, "It's made me more conscious of my body, and how I can use my body better to control my balance." This conscientiousness comes not only from the experience of walking on the underwater treadmill at a gentle, yet demanding, pace, but also from watching real-time feedback on the video monitor. As the patient strides, she can see how her feet are landing on the treadmill floor and make immediate adjustments to ensure her safety and progression.
#2 – Physical Therapists Have Unique Opportunities to Avoid Rehab Boredom
One of the biggest challenges for a physical therapist can be keeping patients from feeling bored. Often, land-based rehab sessions turn into repeat performances of the same exercises. Aquatic therapy in a specialized pool enables physical therapy professionals to get creative. From ankle weights and water volleyballs, to underwater resistance jets, there are many tools that can help improve patient compliance. Perez recently noted, "The compliance really goes up because they are not in pain and they enjoy it. Things like throwing and catching the ball and walking backwards at one mile per hour on the treadmill is a challenge, but it's fun, too."
#3 – All Planes of Motion Can Be Worked Simultaneously and Safely
An exciting aspect of the water is that all planes of motion can be simultaneously worked. This means a patient has to be cognizant of what's occurring and make deliberate decisions. For instance, walking backwards against the pressure of water jets becomes more of a fun, yet safe, challenge. It requires thoughtfulness and in-the-moment reactions to stay balanced and in control, which works the body and mental capabilities of patients together.
#4 – Patients Can Easily Get Into the Water
The HydroWorx 1200 Series therapy pool at Saluda Nursing Center has a mechanism for making the floor go up and down. This allows physical therapists to get people in the water with ease. Even patients who are wheelchair-bound can securely be lowered to a comfortable depth, making it a practical modality even for those with severe limitations. Once in the warm water, their muscle gravity is decreased, as is the stress on the joints. Plus, the natural soothing heat of the water loosens muscles and eases pain.
#5 – Patients Can Be Treated With a Little Tougher Love
As Army-trained Perez has mentioned, "When a patient reaches a certain level, I treat them like a soldier despite their age. If they are active and healthy, why not? I'm tough with them. I can get aggressive in a safe environment." As a treat for working hard during the session, Perez promises an intense water-jet massage, which senior clientele love. "I'm a captain now, but once a drill sergeant, always a drill sergeant."
#6 – Patients With Traumatic Brain Injuries Can Be Helped
Though most of Saluda Nursing Center's patients are at least 50 years old, the facility has seen some young patients with traumatic brain injuries. These outpatient cases are ideally addressed in the aquatic environment, especially if the patient has severe balance issues. The size of the HydroWorx pool makes it perfectly suited for a physical therapist to be either in the water with the client, or alongside the client but outside of the pool.
#7 – Patients See the True Benefits of the Pool and Request It
Residents at Saluda Nursing Center not only know about the HydroWorx pool onsite, but have begun to request the opportunity to use it. Many long-time residents have seen others who used the pool and were able to gain enough abilities to return home for the last years of their lives. In fact, the administration at the facility has been surprised at the number of people who are actively signing up for aquatic therapy. Even residents who are not planning on being able to go home are encouraged by their progress and feeling of accomplishment that they get in the water.
#8 – Patients Don't Have to Travel to Big Cities for Care
The South Carolina location where Perez works is not a big city. In fact, it's surrounded by farms and small towns. The pool has provided them with the same rights and opportunities as "big city" people have. As Perez sees it, it's "equal opportunity." She said that, "We invested in the pool because we felt like people around here would benefit from it." Currently, there are only two such HydroWorx pools at long-term facilities in the state of South Carolina, a fact of pride for both the Saluda Nursing Center team members and their inpatient and outpatient clientele.
Saluda Nursing Center's experience dovetails with those of other HydroWorx-equipped facilities across the country, as well as internationally. For patients, the warm-water pool is an inviting way to achieve personal freedom on land through the advantages of water-based physical therapy sessions. For facility employees, the HydroWorx therapy pool gives them an innovative, proven way to help clients and residents reach their goals.
Watch an aquatic therapy session for 91-year-old Anne, who wanted to improve her balance and reduce her fear of falling while walking.
Learn more about how aquatic therapy can improve balance and decrease falls with our tip sheet "How Water Workouts Can Reduce Falls, Improve Balance and Increase Muscle Strength">>