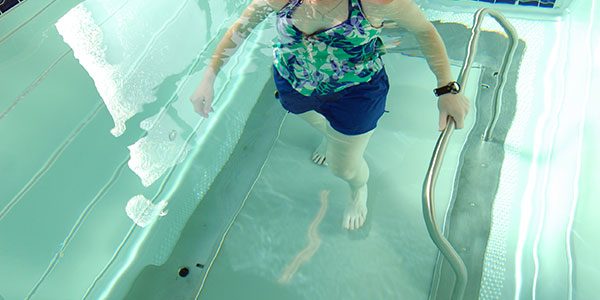 The HydroWorx exercise pool has proven to be an effective means to lose weight. Exercising in water to lose weight can be extremely effective for obese and overweight patients. Statistics show that a person generally burns two more calories per minute in the water than on land. When standing chest-deep in water, the body is 80% weightless, bearing only 20% of its weight. This weightlessness helps with exercises and movements that could otherwise be too difficult.
Jump to Sections:
What Is Hydrotherapy for Weight Loss?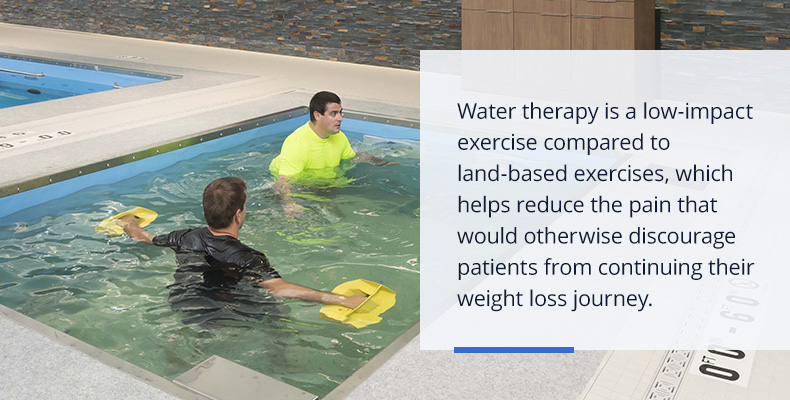 Hydrotherapy supports an individual's body weight, and the warmth of the water allows their muscles to relax, making it easier for patients with obesity to do various exercises with little to now pain. Water therapy is a low-impact exercise compared to land-based exercises, which helps reduce the pain that would otherwise discourage patients from continuing their weight loss journey.
Can Hydrotherapy Help With Weight Loss?
When hydrotherapy is paired with a proper exercise regime, it can play an important role in weight loss. Here are a few ways hydrotherapy can help with weight loss:
Reduces stress: High cortisol levels can negatively impact body weight and muscle development. Soaking in warm water can reduce cortisol levels and stress.
Burns calories: Doing exercises like running or jogging underwater has proven to be highly effective at burning calories.
Promotes better sleep: Lack of sleep or insomnia can contribute to weight gain. Aquatic therapy can improve sleep quality by alleviating pain and encouraging relaxation.
Benefits of Aquatic Therapy for Weight Loss
Using hydrotherapy for weight loss has various benefits, including the following:
Users can burn more calories per minute than with land exercise since water is generally more resistant than air.
Warm water soothes sore muscles, which decreases pain.
Water resistance increases strength and mobility.
Water creates natural buoyance and supports the body, which helps patients regain range of motion and endurance.
Water reduces stress on the feet, knees and hips, making it easier to do exercises that challenge balance and ultimately improve it.
The temperature of the water improves blood circulation and reduces swelling.
Request a Free Info Kit     View Our Products     Find a Pool Near You
Pool Exercises for Weight Loss
Patients with range-of-motion or other flexibility issues due to obesity have successfully used water therapy for weight loss. An underwater environment reduces pressure on joints, allowing patients to perform exercises and movements they are not able to on land. Patients with balance issues enjoy exercising in water as there is no fear of injury due to falling.
Hydrotherapy involves a range of aquatic weight loss exercises tailored to the specific goals a patient wants to achieve. Various tools and underwater workout equipment like weights can be included in the exercise program to meet their needs.
Water Therapy for Weight Loss
A number of clinical studies — like those found on our research page — have shown that obese patients undergoing regular pool workouts for weight loss experience a lower perception of pain compared to land exercise.
Furthermore, Texas A&M University completed a weight loss study comparing the effectiveness of land-based treadmill running to underwater treadmill running. The study found that utilizing the HydroWorx underwater treadmill and resistance jets at the same speeds as a land-based treadmill yielded the same cardiovascular benefits as running on land. Subjects that ran on the HydroWorx underwater treadmill also gained leaner muscle mass than their peers running on land. On average, four out of five subjects also preferred to exercise in the HydroWorx fitness pool than on the land base treadmill.
Additional Resources
Fitness & Exercise (by WebMd) Get information on what exercises and fitness techniques you need to stay healthy and work out right.
Healthy Seniors (by WebMd) Get information on senior living, exercise for seniors, staying active, and enjoying this time of life.
Contact Us to Learn More About Aquatic Weight Loss
Hydrotherapy enables patients to exercise with minimal pain and discomfort, encouraging them to power through their weight loss journey. Contact us for more information about hydrotherapy and how our aquatic therapy solutions can encourage weight loss.