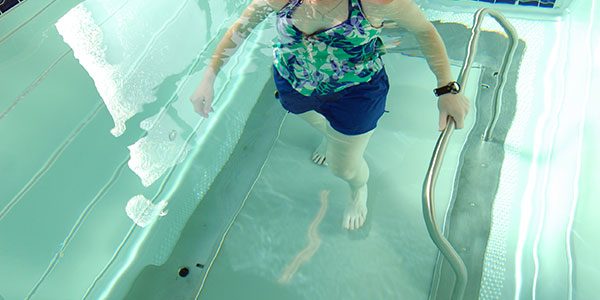 Featured on NBC's The Biggest Loser, the HydroWorx exercise pool has proven to be an effective means to lose weight. Exercising in water to lose weight can be extremely effective for obese and overweight patients. Statistics show that a person generally burns two more calories per minute in the water than on land. When standing chest-deep in water, the body is 80% weightless, bearing only 20% of its weight. This weightlessness helps with exercises and movements that could otherwise be too difficult.
Jump to Sections:
Pool Exercises for Weight Loss
Patients with range-of-motion or other flexibility issues due to obesity have successfully used water therapy for weight loss. An underwater environment reduces pressure on joints, allowing patients to perform exercises and movements they are not able to on land. Patients with balance issues enjoy exercising in water as there is no fear of injury due to falling.
Water Therapy for Weight Loss
A number of clinical studies — like those found on our research page — have shown that obese patients undergoing regular pool workouts for weight loss experience a lower perception of pain compared to land exercise.
Furthermore, Texas A&M University completed a weight loss study comparing the effectiveness of land- based treadmill running to underwater treadmill running. The study found that utilizing the HydroWorx underwater treadmill and resistance jets at the same speeds as a land based treadmill yielded the same cardiovascular benefits as running on land. Subjects that ran on the HydroWorx underwater treadmill also gained leaner muscle mass than their peers running on land. On average, four out of five subjects also preferred to exercise in the HydroWorx fitness pool than on the land base treadmill.
Benefits of Aquatic Therapy for Weight Loss
Can burn more calories per minute than land exercise
Decreased pain
Increased strength and mobility
Helps to regain range of motion and endurance
Improved balance
Reduce swelling
Additional Resources
Fitness & Exercise (by WebMd) Get information on what exercises and fitness techniques you need to stay healthy and work out right.
Healthy Seniors (by WebMd) Get information on senior living, exercise for seniors, staying active, and enjoying this time of life.
Page Updated on: November 10, 2020