Pool Workouts for Competitive Athletes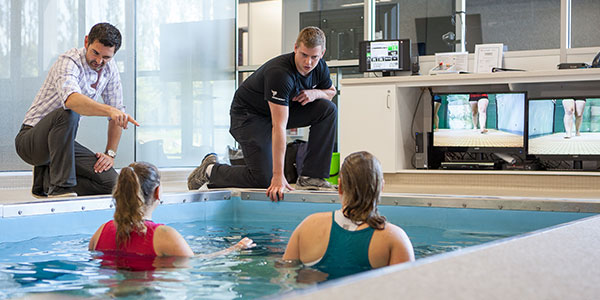 Take your marathon, triathlon or performance training to a new level. That's what Alberto Salazar and the Oregon Project did when they integrated HydroWorx fitness pool workouts into their training regimen. Pool workouts for athletes allow for training in a high-resistance, low-impact environment. Swimming and running are critical aspects of training for many competitive athletes; and now they can be done without increasing risk of injury.
A HydroWorx exercise pool can also provide a supplemental training routine while you recover from injury or a muscle strain. During pool training for athletes, the buoyancy of water allows you to continue running on the underwater treadmill or strength building exercises against the resistance jets. This enables you to maintain your fitness level even when you are injured or your muscles are fatigued.
After a hard workout, treat yourself to a deep penetrating massage to decrease lactic acid build-up in overworked muscles. This is a great feature for overall pain management and recovery enhancement.
Benefits of Aquatic Therapy for Overuse or Athletic Injuries:
Pool workouts after an athletic injury have been clinically proven to be an important part of the recovery process. Visit our research library or our collection of over 100 instructional videos to see how rehabilitation using a pool workout for athletic injuries can help contribute to the following patient outcomes:
Increased mobility and strength
Maintaining fitness levels
Decreasing swelling
Pain relief
Removes weight from joints and bones