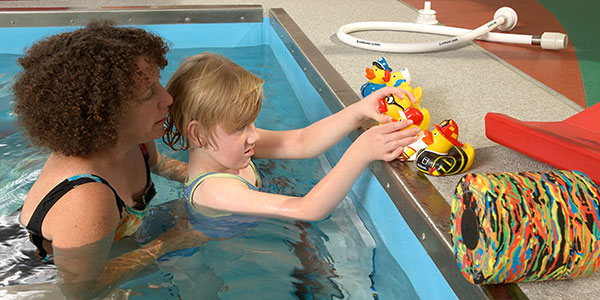 The fully adjustable floor in the HydroWorx 2000 and 1200 Series therapy pools makes it extremely easy to treat children. The depth of water can be adjusted at any depth between 0 and 6 ft, so children of all sizes can benefit from the sensory stimulation that comes from exercising in warm water.
The warm water helps children relax as they do fun pediatric pool therapy activities for rehabilitation and strengthening. HydroWorx's underwater treadmill moves at any speed between 0 and 8.5 mph and increases in .2 mph increments to ensure the appropriate speed for crab walking, crawling, walking and running.
Pediatric pool therapists can also drop the floor to allow for complete weightlessness with flotation belts or balance rings. Use the resistance jets to facilitate swimming exercises and/or increase resistance for protocols. Resistance jets can also be used to enhance proprioception and balance activities.
Pediatric therapists know getting children to stick to an exercise routine can be difficult. The HydroWorx 1200 and 2000 series pools, combined with appropriate pediatric aquatic therapy equipment, makes exercising with children easy.
Benefits of Aquatic Therapy for Pediatric Patients:
Relaxation
Increases joint movement
Pain relief
Enhanced mobility
Improve flexibility
Mobility and strength