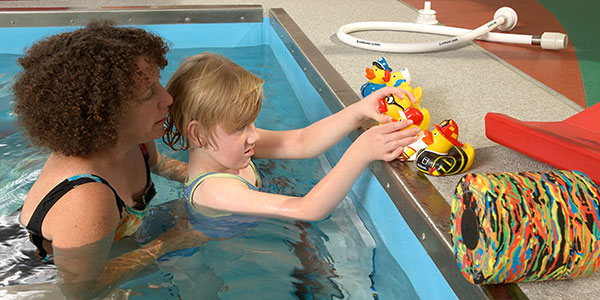 The fully adjustable floor in the HydroWorx 2000 and 1200 Series therapy pools makes it extremely easy to treat children. The depth of water can be adjusted at any depth between 0 and 6 ft, so children of all sizes can benefit from the sensory stimulation that comes from exercising in warm water.
The warm water helps children relax as they do fun pediatric pool therapy activities for rehabilitation and strengthening. HydroWorx's underwater treadmill moves at any speed between 0 and 8.5 mph and increases in .2 mph increments to ensure the appropriate speed for crab walking, crawling, walking and running.
Pediatric pool therapists can also drop the floor to allow for complete weightlessness with flotation belts or balance rings. Use the resistance jets to facilitate swimming exercises and/or increase resistance for protocols. Resistance jets can also be used to enhance proprioception and balance activities.
Pediatric therapists know getting children to stick to an exercise routine can be difficult. The HydroWorx 1200 and 2000 series pools, combined with appropriate pediatric aquatic therapy equipment, makes exercising with children easy.
Benefits of Aquatic Therapy for Pediatric Patients:
Relaxation
Increases joint movement
Pain relief
Enhanced mobility
Improve flexibility
Mobility and strength
Pediatric Aquatic Therapy Research Studies
For many years, aquatic therapy has been an effective adjunct to land-based, pediatric rehabilitation.
Beth McManus, former student of Boston University School of Public Health and Harvard School of Public Health researched the benefits of pediatric aquatic therapy at Boston's Brigham and Women's Hospital. In 2007, Dr. McManus published a study titled The Effect of Aquatic Therapy on Functional Mobility of Infants and Toddlers in Early Intervention.
"Children with developmental delays and disabilities," says McManus, "are often recommended to participate in aquatic therapy to supplement clinic, early intervention, or school-based physical therapy or occupational therapy."
These factors, McManus claims, make aquatic therapy effective:
The buoyant forces of water reduce joint loading and facilitates antigravity movements,
The resistive properties of water promote postural and extremity strengthening, and
The increased capacity for heat transfer in water when compared with air may reduce tone and nonvolitional movement.
In the study, the intervention group spent 30 minutes per week in the pool. After 36 weeks, results showed that children who participate in weekly aquatic therapy with a PT or OT, in addition to home visits by these disciplines, demonstrate greater gains in functional mobility that similar children who received only home visits.
Aquatic Therapy Helps Many Pediatric Conditions
Other pediatric conditions can be improved with the use of aquatic therapy, including autism and cerebral palsy.
A 2006 academic article examined aquatic therapy as a viable intervention for kids on the autism spectrum. The author noted that water therapy could play a part in combatting some of the challenges associated with autism.
Researchers from the University of Las Vegas studied the effects of aquatic therapy among juvenile cerebral palsy patients and found that children with cerebral palsy could improve weakness and mobility by exercising in a therapy pool.
By acknowledging and understanding the advantages to pediatric aquatic therapy, PTs and OTs can offer their young patients hope of improved outcomes and increased functional mobility.
Example Aquatic Therapy Session For Infants
Hima Dalal, owner and lead occupational therapist at Vital Energy Wellness and Rehab Center uses her HydroWorx 500 Series pool for many injuries and chronic conditions, however one of her specialties is also infant rehab.
They buoyancy of the water allows Dalal to slowly strengthen and retrain muscle memory, addressing problem muscle groups early on. The earlier a child's muscular problems are addressed the sooner they can catch up developmentally.
Dalal works to strengthen the back, neck and spine of two infants, ultimately allowing them to sit up straighter, control their neck movements and lie on their backs without pain.
The therapy sessions for infants can consist of:
Posture and spine strengthening
Hip stretching
Spinal stabilization
Back extensions
Neck massage
Neck movement and rotation
Muscle relaxation