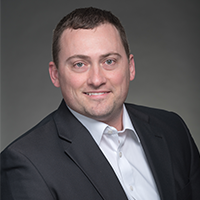 Katon joined HydroWorx in June of 2002 as a Marketing Intern. Upon graduation from Franklin & Marshall College with a degree in Business Administration, where he also played football and was selected as a 1st team all Centennial Conference Defensive Back, he accepted a full time position as Northeast Sales Manager.
In 2005 Katon obtained the "Top Gun" award as the company's top sales person. Katon advanced within the company in various sales and operational roles including Senior Sales Director and Director of Service Operations. While leading Service Operations, Katon and his team improved the company's Net Promotor Score (NPS) by 100% taking the score from 26 to 52 on the NPS scale.
These experiences gave him great background and insight to the business that he uses in his current role as VP and Controller. Katon enjoys spending time outdoors and at sporting events with his wife, Brooke, and three children, Aiden, Kahner, and Ellie.