Return to Play of an Injured Athlete
- EDT
Presented by: Doug Boersma, Associate Athletics Director – Sports Performance/Director of Sports Medicine at Purdue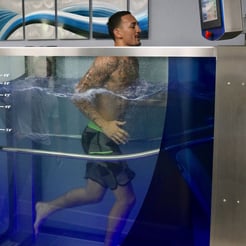 This webinar was part of the Spring Sports Medicine CEU Program that HydroWorx is offering. In this webinar, you will learn how to:
1. Demonstrate safe and reliable aquatic training techniques
2. Describe safe rehabilitation activities
3. Decrease staff anxiety when utilizing aquatic therapy
4. Assure a Patient-Centered Health Care approach
Speaker Bio:
Doug Boersma, oversees the medical treatment, rehabilitation, and pre-hab for all 18 Purdue Athletics sports programs as well as the areas of strength & conditioning, nutrition and sports psychology. He was named Director of Sports Medicine in 2012 and promoted to Assistant Athletics Director in 2013 and Associate Athletics Director in 2016. 
A 1997 Purdue graduate, Boersma returned to his alma mater from Bowling Green State, following stints at Kentucky and Notre Dame.
At Bowling Green State, Boersma served as head athletic trainer for football since 2003, director of sports medicine since 2005 and as assistant athletics director for sports performance since 2010. He also served as an education coordinator for the Mid-American Conference Sports Medicine Association and as a part-time faculty member in the school of Human Movement, Sport and Leisure Studies at BGSU.
Boersma aided in the design and development of two state-of-the-art sports medicine facilities in Bowling Green, Ohio – the Sebo Athletic Center and the Stroh Center.
A certified member of the National Athletic Trainers' Association, Boersma entered the professional ranks after earning his bachelor's degree in athletic training at Purdue in 1997. He completed his master's degree in health promotion at Kentucky in 1999, following a two-year graduate assistantship. He then spent four years at Notre Dame before accepting the top job at Bowling Green State.
During his tenure with the Fighting Irish, Boersma designed a custom-made, online injury tracking system, which was constructed by a technology company in South Bend, Ind. He then implemented and managed that system, Shamrock Net Design, at both Notre Dame and Bowling Green State.
Throughout his athletic training career, Boersma has worked with a variety of sports. At BGSU, he worked directly with the football team and men's and women's golf teams. At Notre Dame, he worked closely with the football program, while directly overseeing the athletic training needs of the men's ice hockey, men's soccer and lacrosse programs. At Kentucky, Boersma tended to the football and women's gymnastics programs. In his stint as a student athletic trainer at Purdue, he worked with the baseball, men's basketball, football and women's tennis teams.
Boersma was recognized twice by BGSU for his commitment to the athletics department and university as a whole. In 2008, he received the athletic department's inaugural Roll Along Award, which is issued to individuals who truly understand and live the theme of "18 sports – 1 team." In 2010, he was recognized by the university's Division of Student Affairs with the Outstanding Administrative Staff Award, which is given to staff members for excellence in collaboration, professional performance, cooperation and the spirit of working together for a common purpose or goal.
A native of Highland, Indiana, Doug and his wife, Cari (also a Purdue graduate), have three daughters: McKenna, Ashlyn and Kayden.