The Impact of Aquatics on the Clinical Practice of Physical Therapy
- EDT
Presented By:  Kristina Stanich, PT, DPT, SCS, LAT, Director of Physical Therapy at Michael Johnson Performance

In this webinar, Kristina Stanich, Director of Physical Therapy at Michael Johnson Performance, will review the currently available research on the benefits of aquatic therapy and how this modality commonly impacts and affects patient care.  She will discuss advantages, limitations and contraindications relative to aquatic therapy.  Kristina will cover research topics including shoulder, back, hip and knee applications in addition to other systemic conditions.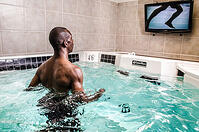 She will also discuss common diagnoses and conditions that, in her opinion, most often respond favorably to aquatic therapy.  Kristina will review published aquatic therapy protocols and provide rehabilitation clinical pearls in regard to duration, intensity and progression of an aquatic therapy program.  She will also share tips for successfully integrating aquatic therapy technology into a clinical practice, and discuss how it can potentially change the way a clinician treats, based on her experience integrating this technology into her own practice.
The presenter will provide case examples with pictures and videos.
AS A RESULT OF ATTENDING THIS WEBINAR, ATTENDEES WILL LEARN:
The advantages, limitations and contraindications relative to aquatic therapy
Common diagnoses and conditions that respond favorably to aquatic therapy
Tips for integrating aquatic therapy technology into a clinical practice