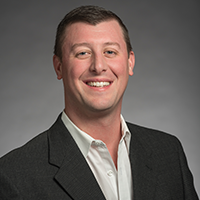 Chad joined the company in 2008 and has held many positions within the company including Director of Service & Retail Sales, Director of Project Management & Installation, and Director of Field Operations.
As Director of Service & Retail Sales, Mr. Bauer implemented growth strategies, consistently achieved service and retail revenue year over year, and expanded current customer offerings. He currently supports functions essential to sales productivity as the Director of Sales Operations. In this role, he leads the project management, installation, and customer design teams. His principal experience lies in the area of national and global field operations & coordination.
Chad attended Texas Tech University where he studied Business Management and English. Chad lives in the Harrisburg area with his wife Chelsi, son Liam, and daughters Eleanor and Peyton.