The HydroWorx Difference
"What makes HydroWorx different?
Originally invented by a clinician like our users, our therapy pools have been helpi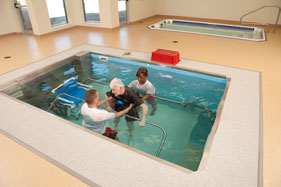 ng others achieve their personal goals since 1998. We believe in the importance of our underwater treadmill technology so much that it comes standard in all of our therapy products.
"Pullman Regional Hospital chose to replace our pool with a HydroWorx because it is the gold standard in the pool industry. We wanted the safety of having stairs with a railing, a built-in treadmill and a pool large enough to accommodate several people at a time. Since we work with a variety of patient types we needed a pool that can meet all those needs and HydroWorx is the one!"- Carrie Coen, PT, DPT, Summit Therapy & Health Services Director, Pullman Regional Hospital
Innovation.  The world of physical therapy and sports training continuously evolves, and we've always pledged to lead our industry's evolutionary process.  This means improving features, offering timely products and always being open to change.  We hate to be sedentary!  That's why we're always upping the ante, whether it means providing even smoother underwater treadmill belt acceleration or unveiling the new construction-free HydroWorx 300 Series.
Science.  Our organization's product development processes are firmly rooted in the principles of scientific discovery and controlled methodologies.  If research didn't show that our products have extreme benefit, we'd make changes accordingly.  Our clients feel good knowing that they're investing in a company that doesn't just operate in the world of theory, but has science on its side.
Education.  We value education both internally and externally.  It's one of the reasons we're so passionate about offering all our customers (and non-customers) free webinars and white papers on a regular basis.  These webinars help physical therapists, clinicians, athletic trainers, wellness directors, strength and conditioning specialists and people from other related fields understand how they can best assist their patients, clients and athletes with water.
Relationships.  Our customers aren't just individuals and organizations who purchase our equipment; they become our partners.  This relationship deepens and expands; in fact, many of our customers become beta testers for equipment upgrades, aquatic therapy expert educators and HydroWorx consultants. 
Life-Changing Results.  Every day, HydroWorx equipment changes the lives of more than 23,000 people across the world.  We are enormously proud to say that we have helped paraplegics gain some movement, have assisted Olympic athletes in reaching for their dreams, and have improved the quality of life for those recovering from injuries, surgeries and medical conditions.
Do these attributes make us different?  We think so.
Find out more about the HydroWorx Difference today!
Page Updated on: March 19, 2020