Aquatic Therapy Aids Pediatric Cancer Survivor Recovery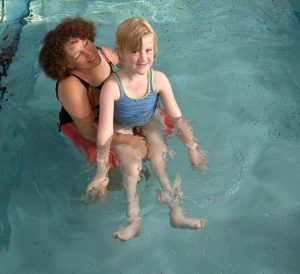 Earlier this month, WBAL in Baltimore  and CNN reported on a 2 ½ year-old girl who travels regularly with her family from Miami, Florida to Baltimore's Kennedy Krieger Institute to utilize, among other therapies, Kennedy Krieger's HydroWorx pool and ultramodern aquatic therapy program.
This young girl was born without incident, but a few months later was diagnosed with Neuroblastoma, a childhood cancer that starts in early nerve cells of the sympathetic nervous system. After surgery to remove a spinal tumor, she was paralyzed from the waist down.
Incredibly, aquatic therapy and other intensive physical and occupational therapy techniques have helped her learn to walk again.
Pediatric Aquatic Therapy Research Studies
For many years, aquatic therapy has been an effective adjunct to land-based, pediatric rehabilitation.
Beth McManus, former student of Boston University School of Public Health and Harvard School of Public Health researched the benefits of pediatric aquatic therapy at Boston's Brigham and Women's Hospital. In 2007, Dr. McManus published a study titled The Effect of Aquatic Therapy on Functional Mobility of Infants and Toddlers in Early Intervention.
"Children with developmental delays and disabilities," says McManus, "are often recommended to participate in aquatic therapy to supplement clinic, early intervention, or school-based physical therapy or occupational therapy."
These factors, McManus claims, make aquatic therapy effective:
The buoyant forces of water reduce joint loading and facilitates antigravity movements,
The resistive properties of water promote postural and extremity strengthening, and
The increased capacity for heat transfer in water when compared with air may reduce tone and nonvolitional movement.
In the study, the intervention group spent 30 minutes per week in the pool. After 36 weeks, results showed that children who participate in weekly aquatic therapy with a PT or OT, in addition to home visits by these disciplines, demonstrate greater gains in functional mobility that similar children who received only home visits.
Aquatic Therapy Helps Many Pediatric Conditions
Other pediatric conditions can be improved with the use of aquatic therapy, including autism and cerebral palsy.
A 2006 academic article examined aquatic therapy as a viable intervention for kids on the autism spectrum. The author noted that water therapy could play a part in combatting some of the challenges associated with autism.  See full article here:  https://www.tandfonline.com/doi/abs/10.1080/J006v26n01_03
Researchers from the University of Las Vegas studied the effects of aquatic therapy among juvenile cerebral palsy patients and found that children with cerebral palsy could improve weakness and mobility by exercising in a therapy pool.
By acknowledging and understanding the advantages to pediatric aquatic therapy, PTs and OTs can offer their young patients hope of improved outcomes and increased functional mobility. More stories like this young cancer survivor's will emerge, bringing other pediatric therapy patients and their families courage to believe.