Muscular Training for Infants Using Aquatic Therapy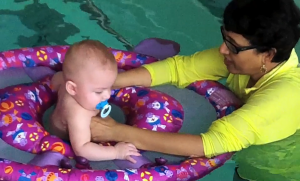 Hima Dalal, owner and lead occupational therapist at Vital Energy Wellness and Rehab Center uses her HydroWorx 500 Series pool for many injuries and chronic conditions, however one of her specialties is also infant rehab.
They buoyancy of the water allows Dalal to slowly strengthen and retrain muscle memory, addressing problem muscle groups early on. The earlier a child's muscular problems are addressed the sooner they can catch up developmentally.
Dalal works to strengthen the back, neck and spine of two infants, ultimately allowing them to sit up straighter, control their neck movements and lie on their backs without pain.
The therapy sessions for infants can consists of:
Posture and spine strengthening
Hip stretching
Spinal stabilization
Back extensions
Neck massage
Neck movement and rotation
Muscle relaxation
Watch a portion of their therapy session below: