Never doubt that a small group of thoughtful, committed citizens can change the world. Indeed, it's the only thing that ever has.

Margaret Mead

Meeting the rapidly growing need for quality of life solutions to restore health, achieve wellness and improve fitness.
HydroWorx harnesses the power of water to accelerate healing and movement through innovative technology by providing world class, evidence-based, products, services and education.
We make water work to help you achieve your potential.
HydroWorx Values
Put Customers and Employees First
Communicate Effectively
Focus on the Long-Term Vision
Drive Results
Be Accountable
Our Passion
HydroWorx believes that aquatic therapy can be a life changing rehabilitation tool.
First Ever Underwater Marathon Helps 60 Wounded Warriors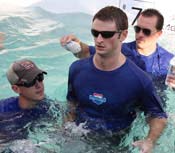 On September 9, 2012, HydroWorx hosted the first ever Underwater Marathon in Hershey, PA to help heal our military's special operation warriors who were wounded in battle or training. The event was a success, boasting over 200 participants! Each participant raised money to run on one of our 16 underwater treadmills as an individual or as part of a corporate team. The event raised enough money to give at least sixty Special Ops Warriors the opportunity to heal at Athletes' Performance and The Andrews Institute in Gulf Breeze, Florida under a program called the Eagle Fund.
We'd like to share this video of Gus, an Eagle Fund recipient from the Air Force, finishing his solo run of 26.2 miles. Gus is still recovering from devastating hip, back and knee injuries sustained in a mid-air parachute collision. He was in a wheelchair less than a year ago and here's the amazing video of the end of his 26.2 mile run.
The Keefer Family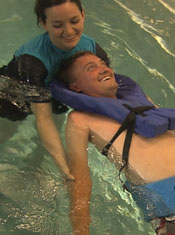 Brian Keefer fractured and dislocated vertebrae in his neck in a gymnastics accident on July 1, 2008. The fractured bones pinched and bruised his spinal cord, leaving him paralyzed from the chest down. Brian has been participating in a land and water therapy program at the Kennedy Krieger Institute's International Center for Spinal Cord Injury in hopes of regaining movement.
His story was such an inspiration that Ty Pennington and Extreme Makeover: Home Edition came to central Pennsylvania, and asked Middletown based HydroWorx to contribute to their life-altering project. The national tv show aired in October 2011.
The Keefer family was the recipient of a fully renovated residence that included a HydroWorx therapy pool as the centerpiece of the remodel. Christy Sachs, Adapted Aquatics Manager at Kennedy Krieger, says the HydroWorx pool is a fundamental part of Brian's therapy: The first time Brian got in the HydroWorx pool, he was able to raise his arms higher than ever before. Because of water's assistive properties, Brian experienced freer movement than he could on land. We can adjust the height of the water, which allows Brian to transition from sitting to standing. The therapy jets challenge Brian's sitting balance, which has improved so much since his first sessions. And, once Brian masters a skill, these adjustable features allow for greater challenges that promote further progress.
Brian spends at least one hour of his therapy sessions in the water, says Jennifer Silvestri, an occupational therapist at Kennedy Krieger. The buoyant force of water supports his weight so that he can perform activities that would be impossible on land. "In the pool, I'm free," Brian said after Extreme Makeover: Home Edition crews knocked on the family's door last June to tell them that they would be featured on the show. "I forget that I'm injured."
The Keefer family is currently enjoying their newly remodeled home as well as the opportunity for Brian to do his rehab more frequently, at his own home, and hopefully with the same amazing results he's been achieving so far.
The Miller Family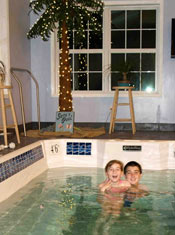 The Miller Family is one that thrives on family activity so when eight-year-old Sara was diagnosed with a mitochondrial disorder, stimulated through a battery of immunizations at the age of 4 months, it was a shock to say the least. The mitochondria are the "powerhouse of the cell" and trigger the muscles in the body to move and react. Sara currently uses a wheelchair for independent transportation to compensate for her hypertonia and fatigue that is brought on by the disorder.
Sara's pool was installed and the poolroom completed this past February 2010, and it immediately had an impact on her therapies and her willingness to work. The family was able to move some of Sara's outside therapy sessions to the pool enabling her to stay in school for a full day. Sara loves the pool and counts out her laps as she walks around the pool or races her brother.
The family also looks forward to Sara being able to use the pool later this spring, as she will be recovering from full spinal fusion in May. They were told that pool therapy is the ultimate therapy for her once she returns from the hospital, as the water will remove the stress from her back and allow her to continue to gain strength and cardiovascular endurance.
"We are forever indebted to the wonderful people at HydroWorx" – the Miller Family
The Blackwell Family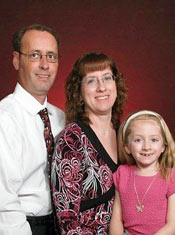 The Blackwell Family is a tight knit family that has suffered many health problems. Not only does mother, Kim, suffer from Multiple Sclerosis, but Taylor, their 7 year old was diagnosed with Osteogenesis Imperfecta, or "brittle bones disease". This genetic defect affect the body's production of type 1 collagen and affected individuals can suffer several hundred broken bones during the course of their lifetime.
In her 7 years, Taylor has had 17 fractures, 8 surgeries and three titanium rods placed in her legs. Despite these setbacks, Taylor is an extremely bright and social girl. She lives with a smile and thrills at the activity of physical therapy. She thrives in the water, as it reduces the pressure on her fragile bones and eases her anxiety of falling—this helps her recover from her surgeries faster. Taylor's mother has seen her build confidence and strength from aquatic therapy. At this time, Taylor only has access to land-based therapy for one hour every week. Through the efforts of the Blackwell's community and many individuals, their poolroom is almost complete.
Blackwell Family Update: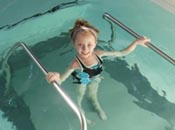 After using the pool for over a year, Taylor is doing well and is now able to swim. Her progress has been great. Before the pool room she would not put her head under water. Now she swims laps in the pool , and enjoys diving for things in the water at the bottom of the pool. She also enjoys walking on the treadmill. Her Physical Therapist is working with her on things she has never worked with her on before and credits this to Taylor having the pool and spending so much time in the pool each week. Her family can already see such a difference in how well she is doing.
Page Updated on: March 19, 2020