Showstopper Pool at Special Needs School
Patty Hornak, Manager Therapy Services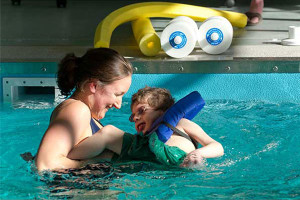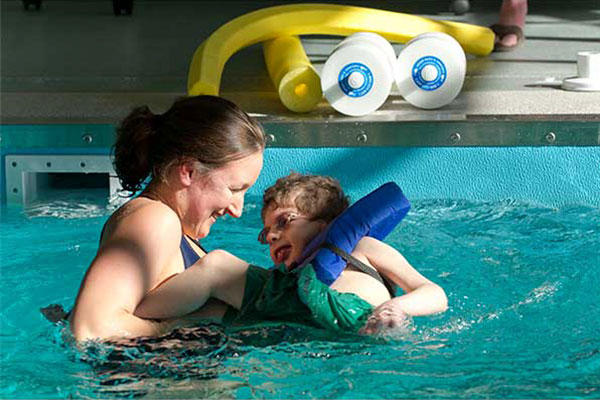 Patty Hornak serves as the Manager of Therapy Services for St. Vincent's Special Needs Service's Feroleto Children's Development Center in Trumbull, Connecticut. This private school provides education for students with disabilities in 30 surrounding towns. Eight years ago, when their new president asked her what new equipment they needed, Patty's unequivocal answer: "a pool!"
Patty's been with St. Vincent for 33 years and understands what hydrotherapy, used to its fullest capabilities, can do for special needs' students.
How the Pool Came to Be
St. Vincent had a form of hydrotherapy as early as 1991, in a hydrotherapy "tank," which was a few feet deep, and filled and emptied as needed. Then, several years ago, a local college PT program partnered with St. Vincent for a "capstone" project to assess the viability, cost and benefits of a state-of-the-art hydrotherapy pool for the school. After steep analysis, HydroWorx was chosen and a few years later, fundraising efforts began.
"Our new (at the time) school president asked me what we needed in order to upgrade our program," stated Patty. "I told him we needed a pool. I was surprised when, in just a few months, fundraising efforts began. We were recipients of our town's Christmas tree festival fundraiser, which secured us $300,000. It was amazing."
"The pool is a show-stopper," continued Patty. "Whenever we have people come through the building, we demo the pool for them. People love the technology we offer our students."
Benefits Usage and Benefits
The HydroWorx 2000 at St. Vincent is utilized by 10 occupational therapists and 8 physical therapists for the school's 80 students, most of which use the pool every week.  With so many moving pieces, scheduling the pool is tricky.
"We use an A week and B week system for the flow," said Patty. "Typically, we break the day down into ½ hour groups. We start treating at 9 am and go until 2:30 pm. Sometimes, an entire class comes together.  They have it down to a science, how you get the kids down to the pool, into the changing rooms, into the pool and back."
Before being introduced to the HydroWorx 2000, most of the St. Vincent students had never been in a pool.
"Most of our students didn't have that sense of being in a body of water, with water all around you. Even in the bath, many are in a bath chair with just a couple of inches of water. They haven't had that sensory experience of being surrounded by water. Many of our patients have CP or genetic disorders that cause their muscles to be either very tight or very floppy and it's hard for them to move on their own. To see them relax and start to move on their own in the water is awesome.
"Buoyancy and resistance are the two key benefits of the water. Pushing their hands down into the water and getting feedback is important for the students. Water is totally surrounding them and giving feedback anywhere they move. They love it; they feel the freedom and the looseness that they have never felt.
"We know the pool is another way to help our students reach their goals. It's a huge benefit to our program."
Case Study
Angie came to St. Vincent when she was 3 years old. She suffers from Wolf-Hirschhorn syndrome . When she came, she couldn't sit up by herself or reach out. Patty and staff were hopeful the water would help her. She started slowly moving her hands. Then her legs. Through this movement, Angie realized for the first time that she had limbs.
"One day Angie bent her leg up then she reached down and grabbed her ankle," said Patty. "You could just see it on her face, how excited she was to have a foot! Her whole-body awareness really came together. It was awesome to see.
"The treadmill is really useful for our children who are mobile and some even higher-level walkers. They practice in the unweighted, gravity-limited environment.  And the parents love it. They want their kids in the pool."
Patty came to St. Vincent as an OT student in need of clinical hours. She came and never left. She and her staff have built a program at St. Vincent that matters, a program that is changing lives and bettering their community. HydroWorx is proud to partner with them in the work.
For more about St. Vincent's pool, see this article from their local paper:  https://www.sheltonherald.com/news/community/article/St-Vincent-s-Special-Needs-gets-a-very-special-13945921.php
For more information about the HydroWorx 2000, please visit https://www.hydroworx.com/products/hydroworx-2000/
#  #  #