The Use of Aquatics in Orthopedic and Sports Medicine Rehabilitation and Physical Conditioning
by Kevin E. Wilk and David M. Joyner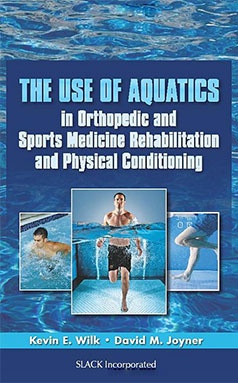 is a definitive and scientifically based text on the use and application of aquatic methodologies in both rehabilitation and physical conditioning appropriate for the general population to the elite athlete. This text represents a new generation of rehabilitation that is informative enough to be injury and sports specific. Dr. Kevin E. Wilk and Dr. David M. Joyner, along with noted domestic and international leaders in the field, explore the aquatic techniques and principles detailed in the work, while presenting this scientifically based material in an understandable and user-friendly format. Ten chapters take the reader from the history of aquatic rehabilitation and progress to discuss all parameters of aquatic rehabilitation.
Some chapter topics include:
History, theory, and applications of aquatic therapy
Pool selection, facility design, and engineering considerations
Rehabilitation for the upper and lower extremities and spine
Sports-specific training
Research evidence for the benefits of aquatic exercise
Appendices, including 4 specific protocols for various lesions and disorders
The Use of Aquatics in Orthopedic and Sports Medicine Rehabilitation and Physical Conditioning represents a new era in the use and development of aquatic therapy in sports medicine rehabilitation and is perfect for physical therapists, athletic trainers, strength and conditioning coaches, personal trainers, and sports medicine professionals alike.
Underwater Treadmill Running
by Alberto Salazar and Dr. Dennis Dolny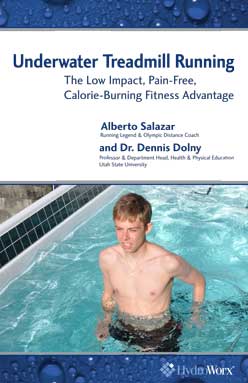 When Olympic athletes need to supplement their weekly mileage, when recreational runners want a low-impact, injury-free way to stay in the game, when physical fitness enthusiasts want an innovative, fun way to lose weight and stay healthy — they all turn to underwater treadmill running!
Let authors Alberto Salazar and Dr. Dennis Dolny show you why water workouts work wonders, and how you can harness water's natural properties to get in incredible shape.
"You don't have to be an Olympian to use an underwater treadmill," Alberto Salazar writes. "In fact, they are successfully used by individuals across all segments of the population for various reasons. Just because someone isn't out to win a gold medal doesn't mean he or she isn't interested in the physical, emotional and psychological self-improvement through innovative exercise."
Read Underwater Treadmill Running to learn more about the advantages of underwater treadmill running.
Page Updated on: March 31, 2020