The Impact of Aquatics on Distance Running
- EDT
Presented By: Pete Julian, Assistant Coach, Oregon Project Running Team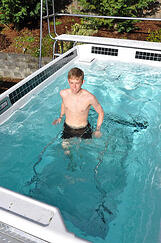 In this webinar, Pete Julian, Assistant Coach for the Oregon Project, led by legendary coach Alberto Salazar and including 2012 gold and silver medalists Mo Farah and Galen Rupp, will outline the various ways that he and the coaching staff use water in their athletes' regular training programs. He will discuss water's role in biomechanic improvement including linear alignment, knee drive, posture and foot strike. Pete will share how he and his team use water for injury prevention and rehabilitation, reviewing a case study to illustrate the strategies used. He will discuss how pool running allows their athletes to increase fitness with supplemental volume, aerobic work and strength work. Pete's presentation will include photos and videos that demonstrate how Oregon Project runners regularly utilize aquatics in their training programs. This presentation aims to move past the science and look at how one of the world's top endurance teams use hydrotherapy in an applied setting.
AS A RESULT OF ATTENDING THIS WEBINAR, ATTENDEES WILL LEARN:
The role water plays in improving biomechanics
How to use water to rehabilitate injuries and prevent future injuries
How Oregon Project runners utilize aquatics within their training regimen to increase fitness

What Past Webinar Attendees are Saying:"Good seminar over all. This would be a great resource for AT educational programs."
"Great job and very informative!"

"Please continue with the webinars. They are very informative!"
"I think this was an excellent webinar!"
"You guys did a very nice job! Thank you for the webinar!"
SPEAKER BIO:
Pete Julian is the Assistant Coach of the Oregon Project running team. An Oregon native, Pete ran for Ashland High School before going on to race for the University of Portland. Establishing himself as the University's very first harrier to acquire All-American status for cross country, in total Julian accumulated four All-American honors.
Running professionally, Julian was a member of both the 1997 and 1998 IAAF World Cross Country Championship teams. He won the 1999 Pan American Games bronze medal for the 10,000m event and represented the United States across the same distance in the 1999 IAAF World Championships.
Coaching at Washington State, Julian brought the University to their first NCAA Championship berth since 2006. In August of 2012, Julian proudly joined the coaching staff of the Oregon Project.