Wounded Special Forces Soldier Confirms the Need for HydroWorx Underwater Marathon
This post has been adapted from the full online article from The Patriot-News written on April 27, 2012 by Monica Von Dobeneck titled Middletown Company HydroWorx manufactures underwater treadmills that help wounded veterans. 
What a success!
The media event held on Thursday April 26th, at Troegs Brewery promoting the HydroWorx Underwater Marathon is certainly worthy of discussion.  A wounded soldier, injured by a shooting while stationed in Afghanistan had the honor of previewing the HydroWorx underwater treadmill device to be used for the underwater marathon.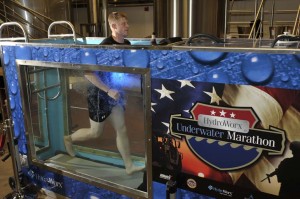 Wounded warrior, Brad, regularly utilizes the HydroWorx therapy pool due to his leg and hip injuries from his previous tour in Afghanistan. He tells us what an impact it has made on his recovery and on his life.
"For me, it was almost like a breakthrough, I was able to run again even if it was just underwater and just the motivation I got from that helped propel me to the next step."
HydroWorx's Underwater Marathon is an event to help raise money for the Eagle Fund. The Eagle Fund began two years ago and has helped 84 wounded soldiers in the past 18 months. The Eagle Fund's director Alex Lincoln is also the Vice President of Athlete's Performance, which helps elite athletes perform at their peak with the help of the underwater treadmills and other forms of training. All three organizations, HydroWorx, the Eagle Fund and Athlete's Performance are coming together for the underwater marathon held at Troeg's Brewery in September.
Why a Brewery for an Underwater Marathon event?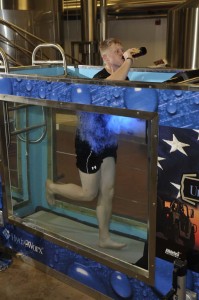 Great question. Well, Troeg's Brewery has a fun, festive atmosphere with live music, which is fitting for this truly one-of-a-kind event.  Troeg's owner, John Trogner, even alluded to the idea of creating a special beer for the event after speaking with the soldiers and seeing what they might like.
There are many ways for the public to participate and contribute to the event outside of running the full marathon. On September 9
th
, there will be 16 treadmills available per heat with numerous options for participation. People can sign up as teams or individuals to run a 5K, 10K, or half marathon. As of right now the first heat is sold out but there is still room in the second heat! Be sure to
sign up soon online!!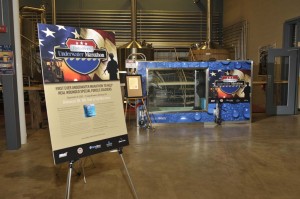 Special thanks to Brad, Troeg's Brewery, and Athlete's Performance and the Eagle Fund for making this possible!
For more information and the latest news about the Underwater Marathon
click here!