Why Water Worx for Wellness Programs
Laura Husak, Life Enrichment Coordinator at Carolina Village in Hendersonville, NC, shared in a recent ICAA Webinar, how she was able to bring to life the vision of a program based on eight dimensions of wellness by coordinating resident-led and staff-led programs. In her 14 years of experience, she has developed several goals for a resident wellness program:
Increase and maintain independence
Increase resident overall health
Offer social opportunities
Be active in the community, volunteer and share skills
Offer lifelong learning
Educate and implement healthy eating
Improve balance, strength and endurance
Offer a variety of spiritual options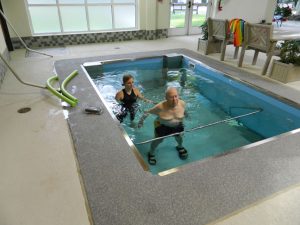 Encouraging residents to engage with staff and participate in a multitude of programs opens doors on to new opportunities such as allowing residents to assist with an aquatic exercise routine or hand-out monthly exercise schedules. This inspires residents to try new things and improve their wellbeing.
Laura suggested ways to do this: Understand what is important to your residents. Build the programs around their interests. Get personally involved – take time to witness what the residents do in the community. Support and acknowledge their accomplishments. Make exceptions to the rules. For example, Laura received interest from two 98-year-old residents wanting to go for a swim in the pool. Before telling them they weren't able to do that because of potential water contamination risks, she wanted to make sure the residents were happy. Laura allowed the two residents to swim and shut down the pool for the rest of the day in order to treat the water with chemicals. Seeing the smile on the faces of the women was all Laura needed to see to understand how important this was to the residents.
By following the 8 dimensions of wellness benefits the fulfillment in your residents:
Environmental. Focus on protecting and improving their personal environment and the environment at large to ensure health and safety benefits for themselves and the generations to follow.
Vocational. Emphasize on the process of determining and achieving personal and occupational interests through meaningful activities including lifespan such as occupations, learning new skills, volunteering and developing new interests or hobbies.
Physical. Promote involvement in physical activities for cardiovascular endurance, muscular strengthening and flexibility such as aquatic therapy. Be an advocate for healthy lifestyle habits, encourage personal safety and appropriate use of healthcare systems.
Nutritional. Provide meals that are both appetizing and healthy for your residents and provide information such as menus that enhance the ability to make wise choices that are in their best interests.
Intellectual. Encourage individuals to expand their knowledge and skill base through a variety of resources and cultural activities such as games, puzzles and aquatic exercises.
Spiritual. Offer programs or services that connect with residents' need for spirituality. Residents often seek meaning and purpose in life and often display their values through behaviors such as mediation, prayer, contemplation of life/death, as well as appreciating beauty in nature and life.
Emotional. This involves the capacity to manage feelings and behaviors, recognize and express the feelings of a resident in order to help them manage feelings and behaviors.
Social. Emphasize on creating and maintaining healthy relationships by talking, sharing interests and actively participating in social events and activities.
Download the whitepaper "Why Water Worx for Wellness."
The keys to success for Carolina Village have been the participation of the Executive Director and Board, staff, residents and residents' council and being able to use all elements of the facility. These crucial team members are all part of the success.
Laura offered suggestions to get your residents to "buy in" to your wellness programs:
Develop relationships
Know their backgrounds and likes/dislikes
Tailor your program around your individuals
Offer a variety of staff, times and locations
Engage in face-to-face interaction and accountability
Market your program
For aquatic programs, provide the ideal atmosphere to get and keep residents in the pool with some of these strategies:
Get the water, locker room and air temperature right – Carolina Village keeps the pool around 89 degrees. Laura stressed that the correct temperature is a make it or break it deal for her residents.
Teach them how to get in and out of the water. Make your residents feel comfortable by demonstrating the pool's accessibility.
Teach them how to navigate the locker room.
Educate them on what is to be expected… no wet hair! Getting in the water does not mean you have to mess up your hair and makeup.
Show them where to purchase bathing suits. Make the experience as user-friendly and accessible for the residents. Direct them to the local shop or personally purchase bathing suits and give them an option.
Offer a variety of teachers and times. Be open to trying new programs and times to adjust to the residents' schedules. Learn the importance of providing additional classes based on how many residents attend a class. Listen to your residents and receive feedback.
And finally, Laura simply suggested, "Do something different and have fun!" Involve your residents by allowing them to teach a class and start a film. Get them engaged! Get creative with your time, space and allowances for volunteers. Keep an open mind throughout the process and you'll be sure to put a smile on your residents' faces!
Download the Why Water Worx for Wellness to learn how a warm water environment can enhance multiple dimensions of well-being.