Webinar Recap: Use of the Underwater Treadmill for the Buffalo Concussion Treadmill Test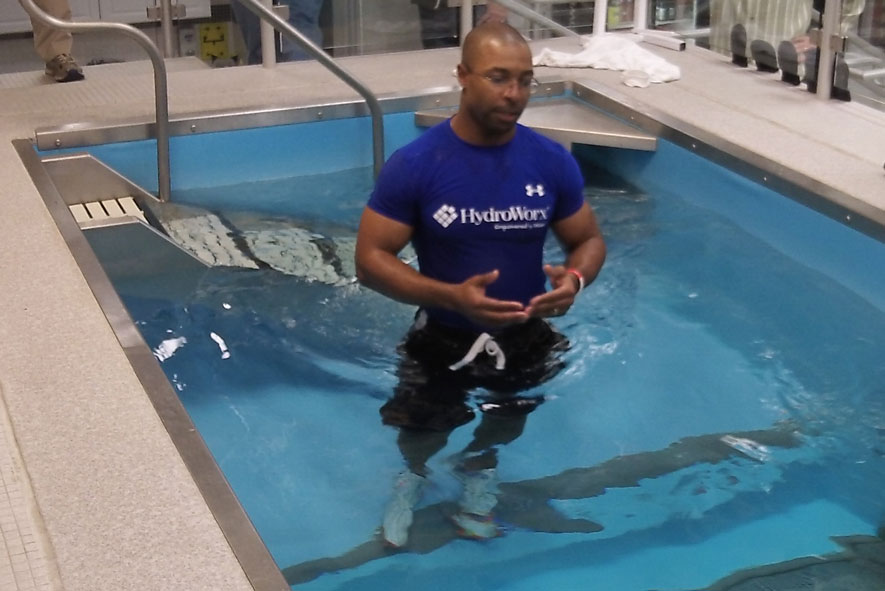 We were recently joined by Murphy Grant, for a fantastic webinar detailing the Use of the Underwater Treadmill for the Buffalo Concussion Treadmill Test. Murphy has being using HydroWorx pools for over 20 years and has a great deal of insight into using them to effectively work with numerous injuries and rehabilitation protocols.
Murphy began by reviewing the Buffalo Concussion Treadmill Test (BCTT), current rehabilitation protocols and ways to incorporate new technology into return-to-play plans. The Buffalo Concussion Treadmill Test:
Measures the amount of aerobic exercises that are safe to perform when recovering from a concussion.
Assesses the degree of exercise tolerance.
Establishes a safe amount of exercise for treatment to occur post-concussion.
Following the explanation of the BCTT, Murphy examined what a concussion is, how they are generally caused, as well as several signs and symptoms of concussion. Some of these symptoms may be very subtle and not show up immediately. They can also last days or weeks, or even longer.
Headache
Ringing in the ears
Nausea/vomiting
Fatigue or drowsiness
Confusion
Blurry vision, sensitivity to light and noise
Sleep disturbances
After speaking in detail about concussions themselves, he shared how to get these patients to safely return to activity. It is imperative to get the individual started on their progressive management plan as soon as it is safe. As Murphy stated, "Studies show that resting for longer than 24 hours post-concussion can truly lead to worsening outcomes."
Utilizing water for the Buffalo Concussion Treadmill Test, as well as the return-to-activity plan is a fantastic alternative to traditional training. The water is 1,000 times denser than air, provides hydrostatic pressure, and allows for aquatic exercise to take place more quickly than land-based exercise. When speaking about why he uses water, Murphy acknowledged "We utilize HydroWorx for all of our other injuries…so why not utilize the HydroWorx pools for return-to-play…from a concussion."
All of our past webinars, including this one, are available in their entirety for on-demand viewing on the HydroWorx website.