Webinar Recap: Sports Medicine Center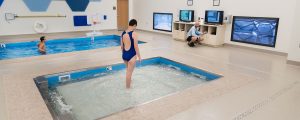 Earlier this year, Kayla Greiner, PT, DPT, OCS and Jason Yoder, PT, DPT, Operations Manager (Sports Medicine Center at Children's Mercy Kansas City), presented a webinar about developing an aquatic therapy program within a sports medicine setting.
Kayla has been working in outpatient sports medicine and pediatrics for 10 years and specializes in the management of ACL injuries, sports-based aquatic therapy programs and female athletes. Jason, as operations manager, has been an integral part of developing the 27,000 square foot Sports Medical Center of Sporting Kansas City, Children's Mercy, a combined outreach for Children's Mercy and Sporting KC.
Finding the right pool
"We spent two and a half years researching pools," said Jason. "We visited renowned facilities and spoke with folks running aquatic programs in the athletic realm."
Jason and his staff solidified their on-site research with personal experience, actually getting in many makes and models of pools and trying them out, working hard to understand the ramifications of each product. They spoke extensively with facility managers and engineers.
"Many times, as a PT, we focus on patient care. However, there are a lot of other considerations when running and operating a pool. We wanted to get a grasp of what facility managers are dealing with and what we would be getting ourselves into with the purchase of a given pool."
Jason knew they'd be seeing adolescents from 10-20 years old and, along-side them, professional athletes. "We took all of this into consideration and looked at all sorts of pools and pool companies. We looked at how the pool would pay for itself, insurance reimbursement, small group classes, schedules and how we could best utilize the pools."
Jason advocates heavy research both in pool selection and facility buildout.
In the end, two pools, the HydroWorx 2000 and HydroWorx 3500i, were deemed the best options for The Sports Medicine Center at Children's Mercy.
Engineering Choices
Some of the Center's notable engineering picks were the installation of a massive dehumidification unit and special lighting.
"We didn't want the humidity from the pools to affect the rest of the 7.5-ton cooling and dehumidification system in the building," said Jason. "Also, we looked heavily at lighting, and chose to incorporate a lot of indirect lighting to reduce the glare on the water.
Other considerations they made were higher grade outlets, quality speaker system, waterproof monitor covers, drainage on the pool deck to decrease falls, and a commercial grade sump pump to drain and re-fill the pool quickly.
Chemical Usage
When considering a pool, water care is a top priority. Jason and his team explored many options and went with a sophisticated, automated system using Chemtrol 250 + Clear Comfort + infinity Chlorine Dispenser, using chlorine tablets and acid magic to meet city and state requirements.
Jason reminds webinar participants to acquaint themselves with state and county codes and inspection process before engaging in an aquatics program in order to stave off any potential water inspection issues.
Effects of Water
Besides discussing the ins and outs of pool ownership and maintenance, Jason and Kayla also delved into the benefits of hydrotherapy.
Buoyancy. Buoyancy alters the amount of weight patients bear in the water. When they are in neck-deep water, patients experience only about 10% of their body weight, and at mid-chest, 35-50%. To increase weight-bearing as patients progress, you can simple increase the depth of the water.
Hydrostatic pressure reduces swelling and inflammation, an important factor for acute injuries. With an ankle sprain, Jason explained, a water depth of about four feet is needed. The hydrostatic pressure at this depth exceeds the athlete's diastolic pressure so he can exercise without pain or reinjury or increased swelling.
Resistance and velocity. Kayla explains that resistance and velocity are "accommodating resistances," meaning the force of the resistance increases as the speed of the movement increases. "If we increase the speed of the movement," she explained, "it can make the exercise more challenging. We typically add resistance with equipment, such as fins, weights, noodles or balls."
Temperature. Warm water soothes and heals. The aquatics team at Children's Mercy KC keeps their HydroWorx 2000 pool at about 90 degrees, the 3500i around 92, using the massage hose for soft tissue aids.
Other benefits of aquatic therapy include early restoration of joint mobility, decreased swelling, reduced pain and normalization of gait.
"Using the camera in the cueing of patients' movement patterns in the pool is a real benefit," stated Kayla. "We can see problems as they develop and address them immediately as patients re-learn to walk."
Demonstration of exercises
In the webinar, Kayla incorporates many short video clips of patients using the pools and explains the exercises they are performing, many times with additional therapy equipment to enhance their experience in water.
"We had him hold the medicine ball overhead while marching against the current," Kayla explained during one video clip. "It's too easy to flex forward in the water, so putting the ball overhead helps him stay upright. Stepping up the underwater steps while holding the ball strengthens his core.
"These exercises can be done against the current, as single or double leg hops, progressing to stepping laterally, then holding a kick board in hand to allow more resistance. These activities can be tailored to a specific sport for training purposes, for example, a quick burst of energy and jumping skills. Whatever the patient needs, you can do it in the pool first."
To view the webinar in its entirety, please visit https://ww2.hydroworx.com/webinar-sportsmedprogram.