Webinar Recap – Lower Body Rehabilitation in an Aquatic Environment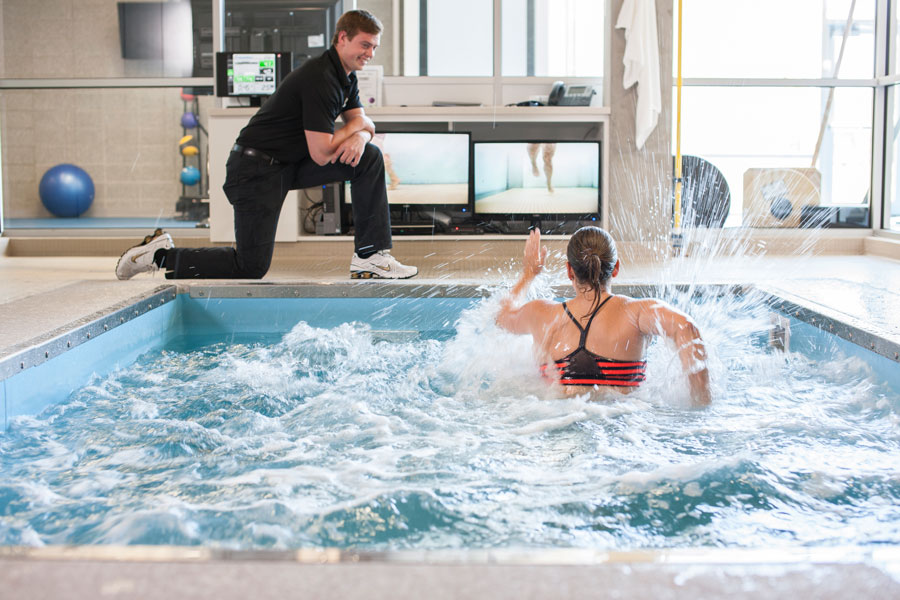 We were fortunate enough to be joined by Erin Bussin (CSCS, R. Kin) and Dr. Nicholas Held for an incredibly informative webinar discussing Lower Body Rehabilitation in an Aquatic Environment. Both Nick and Erin have used several different HydroWorx products with a wide variety of patient groups, including professional athletes, elderly, military, and the general public.
This webinar was an interactive roundtable discussion in which participants had the opportunity to learn and ask questions about how aquatic therapy can aid in lower body rehabilitation. After brief introductions, Nick and Erin started their presentation, where they discussed the 5 Stages of Rehabilitation in an Aquatic Environment:
Clinical Management
Movement Skill Development
Energy System Enhancement
Increased Load and Explosive Movement
Training Load Monitoring/Active Recovery
Both of our presenters proceeded to dive into each of the stages and explain what they are, what activities normally occur in each stage, and how they can aid in lower body rehabilitation. One of the main points mentioned was that these five steps are not necessarily linear, and the order of progression should be adapted based on the individual needs of each client.
Clinical Management
The Clinical Management stage deals with how the properties of water can be beneficial in the early stages of rehabilitation. The warmer temperature of the water, as well as it's buoyancy, help start the rehabilitation cycle and progression.
Movement Skill Development
The second stage, Movement Skill Development, entails watching the individual move in the water (walking, jogging, squatting, etc.) and starting to adjust the amount of weight-bearing. At 4 feet deep, water pressure is greater than diastolic blood pressure, which aids in circulation and reduces inflammation. Approximately 85% of body weight is removed if water is up to the clavicle, but when the water is at hip level, body weight is around 52%.
Energy System Enhancement
The next stage, Energy System Enhancement, allows clients to begin initiating movements for overall conditioning as well as a return to the field of play or daily activities. The main emphasis of this stage is to focus on cardio and to begin increasing conditioning.
Increased Load and Explosive Movement
In the Increased Load and Explosive Movement stage, clients can begin running faster and can begin more dynamic movements like jumping and running faster. Running does not necessarily have to start here, but it progresses to more explosive movements, allowing the individual to work harder depending on their tolerance.
Training Load Monitoring and Active Recovery
The fifth and final stage of lower body rehab in an aquatic environment is Training Load Monitoring and Active Recovery. In this phase of rehabilitation, clients build on their training load and can use the pool as active recovery to support a return to training or everyday life.
As Nick said during the webinar, "The biggest thing I think we can take away from today's discussion…is that these pools and the aquatic environment, in general, can be used throughout the entire rehabilitation protocol."
Click here to view this webinar and get all of the details about the benefits of aquatic therapy on lower body rehabilitation.