Webinar Recap: Biomechanical and Physiological Alterations in an Aquatic Environment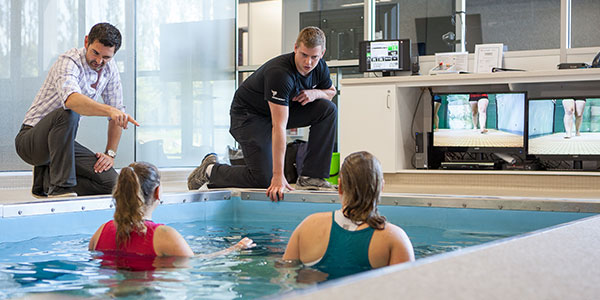 We were pleased to once again welcome Erin Bussin (MSc, CSCS, R. Kin) and Dr. Nicholas Held for another enlightening webinar, this time pertaining to Biomechanical and Physiological Alterations in an Aquatic Environment. Erin is a strength coach and kinesiologist, while Nick is an adjunct professor and postdoctoral fellow, in addition to his duties as the Research and Development Manager at Hydrathletics, Inc.
This webinar looked at a great deal of current research on the impact that running on an aquatic treadmill has on both biomechanics and physiology. The presenters looked at each of the five stages of rehabilitation in an aquatic environment and delved deeper into each. They include:
Clinical Management
Movement Skill Development
Energy System Enhancement
Increased Load and Explosive Movement
Training Load Monitoring / Active Recovery
Nick and Erin went on to explain that there are several different kinds of aquatic running. They explained that each presents its own benefits and challenges and provided examples and explanations of each. Those three main categories are:
Deep water running where there is no contact with the ground
Shallow water running which allows you to contact the ground underneath you
Aquatic treadmill running that provides a moving floor under you
In addition to this wealth of information, Nick and Erin covered many other topics including, but certainly not limited to, the characteristics of water immersion, challenges that can arise with physiology or mechanics and went into detail comparing aerobic exercise to anaerobic exercise.
As Nick stated during the webinar, "The power of the resistance of the water is something that we can really use to our advantage."
You can find a recording of our Biomechanical and Physiological Alterations in an Aquatic Environment webinar on the HydroWorx website, along with recordings of many other webinars.