Webinar Recap: Balance Training for Older Adults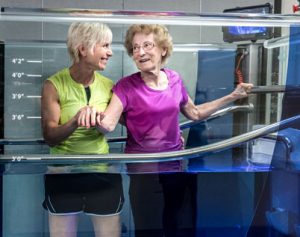 A day after we hosted the webinar, "Balance Training with Aquatic Therapy for the Older Adult CNN published an article, "Aging gracefully: Preventing falls." The timing seems almost perfect. While research continues to show the importance of exercise for aging adults, it also has benefits for preventing falls.  From the article, "Preventing falls, which requires a multifaceted approach, is one of the key components of not just living longer but living better."
Tony Pazzaglia, CEO of Terrapin Physical Therapy in Monterey, CA, knows that balance training is a key component to preventing falls for his older patients. And while there are many exercises they can do on land to improve balance, Tony finds the water to be an ideal place for balance training.
The first thing Tony notes in his recent webinar, is that telling a patient when they leave to "be careful" is not a strategy. Not only does it hold little value, it is in fact, more fear creating. A better solution is to teach them how to maneuver well and make them stronger so they are equipped to move better.
Tony describes a few technicques in which teaching and strengthening can be accomplished both on land and in water:
Neuromuscular education
Balance training
Gait training
Strength training
Tony then tells a story of Bill, a patient who came to them specifically because he was dependent on four wheel walker, and he wanted to recover from his falls with the underwater treadmill he had heard about. For each treatment, Bill spent 35-40 minutes on the underwater treadmill and 20 minutes on land. At the time they filmed his last video, he did not require a walker, went to a local golf tournament in Pebble Beach and walked 18 holes of golf on uneven terrain with no ambulatory aid!
Tony also showed a fantastic graph relating walking speed to capabilities and discussed just how important increasing walking speed is to preventing falls. The significance of this graph is that it identifies the importance of having objective measures. The underwater treadmill provides an advantage here over a local static pool because you can specifically measure walking speed and improvement from session to session.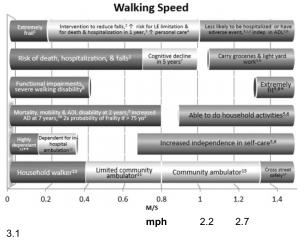 One of the key reasons Tony prefers the water for balance training is that he can challenge patients beyond their limits of stability, which is important in balance training. It's safe in an environment with the reduced impact of gravity. Worst case scenario is that they get their hair wet (to date, that has not happened). The underwater treadmill also allows a better way to train dynamic and static lateral balance.
Watch the full webinar on-demand here>>
After the webinar, Tony opened it up for questions. A few of those questions are below:
How many times per week do you treat a patient?
Typically two to three times per week. We schedule 40 minute blocks with the intention for client to be with us for 1 hour.
Do you do anything to attract clients to a cash pay wellness program?
We market cash clientele through the website.
Our current cash paying customers are growing all the time. Clients seek Terrapin out for our services.
We also have some cash clients who enjoyed their physical therapy treatments, but their insurance benefits came to end.
We have a few with high deductibles, who pay cash instead. Typically those who use the water like it and those cash paying clients can choose their treatment, rather than it being dictated more by insurance.
To learn more about how Tony has used underwater treadmill exercise to prevent falls, watch the full webinar here>>