Why Water Worx for Wellness
Wellness encompasses much more than just being active. According to The World Health Organization, "Wellness is a state of complete physical, mental and social well-being and not merely the absence of disease or infirmity." Wellness is all about making choices toward a healthy and fulfilling life.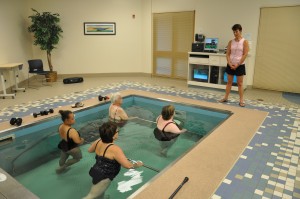 In order to work towards overall wellness, an active and healthy lifestyle is important. There are many types of exercise and activities in which to participate, but very few that encompass more than one dimension of wellness.
Water is an ideal exercise environment for older adults as it eliminates the fear of falling or injury. It is also fun, enjoyable and therapeutic. The healing powers of warm water can enhance multiple dimensions of well-being. Warm water exercise:
Unloads joints

Increases patients' range of motion

Reduces the risk of falling or injury

Aids in weight loss

Reduces muscle soreness and pain

Increases strength and balance

Is fun and enjoyable
Barb Cacia, BS Ed., Wellness Coordinator at Pieters Family Life Center, offers many successful wellness programs at her facility and shares some creative ways for structuring a class as well as engaging participants in this new white paper, "Why Water Worx for Wellness."
"Wellness is so much more than moving your muscles, eating veggies and doing yoga! It's the interconnection of body, mind and spirit! The warm pool temperature provides the participant with comfort, buoyancy and ease of movement, which in turn decreases the stress on the participant. So physically and emotionally, people are more open to wellness suggestions and lifestyle changes! After a few weeks of water exercise people leave the program with a positive outlook, increased abilities and feeling good about themselves and their bodies!" – Barb Cacia
Download our  free White Paper today to learn the ways how water can impact wellness including:
How the healing powers of warm water environments enhance multiple dimensions of well-being

Why warm water activity is ideal for aging adults

Creative ideas for implementing a wellness program in water
Page Updated on: June 16, 2020