Why Water Worx for Rural Health Providers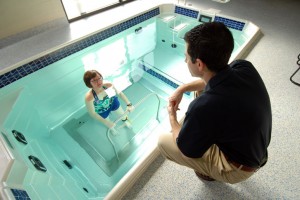 Integrating water therapy into a rural hospital can help achieve quality outcomes and reduce readmissions. Clinicians who have used advanced aquatic technology, such as underwater treadmills and resistance therapy jets, as part of their rehabilitation services, have found that their patients achieve better rehab outcomes. These patients also experience less pain related to rehabilitation and are happier to comply with their rehabilitation protocols.
"This pool is allowing our patients to get into a more therapeutic environment, begin their therapy early, more comfortably and progress toward land-based activities in a much more rapid manner. So we really believe it's been an excellent tool to help us continue to achieve nationally ranked outcomes. "- Mick Ward, Director of Rehabilitation and Sports Medicine Services at Freeman Health System in Joplin, MO
Rural health providers face financial challenges that make it essential for decision makers to be able to see the road map to return on investment before making any capital purchase.  In this white paper, current HydroWorx rural health customers share the financial impact that adding a therapy pool to their clinic has had. For example, Veronica Paquette, Owner of Essex Aquatic & Rehab Center in Essex Junction, VT, shares that since integrating a therapy pool in her clinic, she now sees an average of 275 patients per week compared to 65-75 patients per week prior to having an aquatic therapy pool.
In addition to real-life ROI examples, this white paper provides testimonials from current rural aquatic therapy users as well as proven research on how water can benefit the rural patient population.
"From a patient care perspective, the efficiency, safety and therapeutic advantages of the pool have improved our outcomes and helped us keep our community healthier. Our arthritic clients have been able to delay and avoid surgery, and post-injury clients can begin their therapies much sooner." – Ty Shaull, Chief Operating Officer for Wyandot Community Hospital in Upper Sandusky, OH
Download our free white paper today to see the impact warm water therapy can have on your rural community, including:
Improved results and patient compliance for therapy services
Potential financial gains from aquatic therapy based on user experiences
Additional uses for various populations and conditions
Free On Demand Webinar: Strategies for Treating Low Back Injuries with Aquatic Therapy
On March 19, 2015 from 1:00pm to 2:00pm EDT Murphy Grant, MS, LAT, PES Assistant Athletic Director – Sports Medicine and Head Football Athletic Trainer at The University of Kansas, presented the webinar, "Strategies for Treating Low Back Injuries with Aquatic Therapy." This webinar provided treatment ideas for using the benefits of hydrotherapy for low back injuries such as Lumbar Sprain, Muscular Strains, Contusions, Sciatica, Herniated Disks, Spondylosis and Spondylolisthesis. The webinar also offers strategies to develop rehabilitation programs and progressions using aquatic therapy as a medium.