Warrior Rehabilitation Webinar On-Demand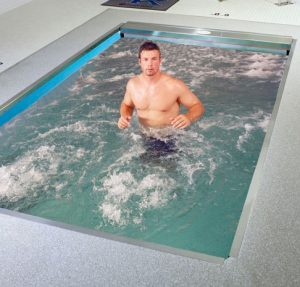 Recently, we hosted a webinar titled, "Using Aquatics for Warrior Rehabilitation." In this webinar, Cory Keirn, DPT, OCS, CSCS, head physical therapist for aquatics at the James A. Haley Veterans' Hospital in Tampa, FL, presented about the various ways that he uses aquatic therapy to treat the military veterans in his care.
In this webinar, Cory discussed the environment in which he works and the many ways he has seen aquatic therapy work for warriors.
Access this webinar on-demand now>>
At the James A. Haley Veteran's Hospital in Tampa, FL, there is a new polytrauma building with 56 beds for inpatient rehab post-surgical and sub-acute care. The new building is designed to offer a sense of community for warriors that need to be there for an extended period of time. They offer acute care, inpatient, outpatient, SCI, TBI, locomotor, vestibular, amputee clinic, chronic pain, PACT, polytrauma, PREP (special operations and active duty) and aquatics.
Cory shared that getting the doctors on board with early aquatic therapy took some convincing, but since being convinced of its benefits, they have been extremely pleased with the progress they've seen and now regularly refer patients to aquatic therapy. Cory suggests using Bruce Becker's book, "Comprehensive Aquatic Therapy," as a reference when starting an aquatic therapy program.
The HydroWorx 2000 Series pool opened in 2015 at this hospital and they have seen great results for many different diagnoses such as:
Trans-tibial amputees
Total knee arthroplasty
Total hip arthroplasty
CVA
Lumbar fusions
General debilitation and deconditioning
Some of the ways that Cory uses aquatic therapy include:
Gait training – trying to reintegrate them into the activities of daily living so they are not caught off guard by pain or unexpected obstacles that can happen at home.
Controlling edema – using terminal knee extension early helps to control edema, along with the warm water and repeat muscular contractions which helps to pump edema out.
Improving range of motion – the warm water relaxes the patient, decreases their pain and helps to take their guard down a bit so that they are able to move more freely.
Balance and proprioception exercises – work on neuromuscular re-education to improve balance.
Return to full weight-bearing – by raising the pool floor to gradually decrease water depth, patients can progress to doing exercises at full weight-bearing for an easy transfer to land activities.
Cory has found that aquatic therapy helps many with their psyche, circulation and mood, so it is great for the mind and body!
Cory then reviewed a case study of a 20-year active duty service member who had multiple blast exposures, crushed left forearm, bilateral SLAP tears and knee osteoarthritis. This warrior had been a track athlete and had a goal of competing in the Warrior Games. After his time working with Cory and the underwater treadmill, he had great results in cycling events at the Warrior Games because of his metabolic conditioning. He left with a gold, two silvers and one bronze for all four events in which he competed.
A few of the conclusions Cory has made during his time using the pool are:
Osteoarthritis is a big factor in the military because the intense training takes a toll on the body. The pool has been a great way to unload joints for those suffering from osteoarthritis.
Amputees can see themselves running on camera at a speed that they used to be able to do on land. Seeing that when they haven't been able to walk well for many years is a confidence and morale booster.
There have been great results for gait training; it improves posture, neck pain and back pain.
Cory concluded the webinar with a Q & A session. A few of the questions are below:
Have you treated people with gait injuries from more than a year previous?
Yes, during evals we try to find out where the impairments are instead of where the pain is. We will do some soft tissue work and foam rollers to try to loosen up some areas to promote contractions where they are wanted. Warm water and unloading is really beneficial. It takes time to find out where limitations are and address them.
Have you seen your patients demonstrate less stress, better behavior or improved sleep?
Yes, it does seem to help outpatients with sleep. Overall, there is an improvement in mood, less guarding with pain, better reception and openness to treatment. They're more tolerant to let you do a little more and they're more confident.
For those that are struggling to get surgeons to approve early post-op even with waterproofing, what would you suggest?
Our surgeons tried to keep it safe at first too. We got a few physicians on the aquatic therapy side. Bruce Becker's book is a great resource because he is an MD, so other MD's listen to him. We would cite it for the surgeons and even emailed Dr. Becker who offered to come out and talk to surgeons. A lot of research supports low infection rate. We did our own experiments to identify the best bio-occlussive dressing by shaving my knee and putting every kind on my knee to see what would stick and what doesn't. So far, it's gone extremely well and we have gotten a lot of great feedback from patients to ortho surgeons. Now if you get a knee replacement they send you to pool.