Visit with HydroWorx this week in Nevada!
As a proud sponsor of the Sports Physical Therapy Section of the APTA, we are excited to attend the 2013 Team Concept Conference in Henderson, NV later this week!
"The Sports Physical Therapy Section (SPTS) is a component member of the American Physical Therapy Association (APTA), which provides a common forum for members of the Association with an interest in sports physical therapy. The SPTS has grown tremendously in the past three decades to over 6000 members and is one of the largest sections among the parent organization's nineteen specialty sections. By providing a common forum for physical therapists with an interest in sports physical therapy, the SPTS serves to broaden the field of physical therapy and disseminate knowledge related to the practice of sports physical therapy."
Please visit HydroWorx at Booth #6 on December 6 & 7 to take advantage of these exciting opportunities!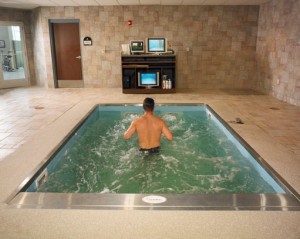 Don't miss a special presentation by Brian Abadie, Performance Specialist from Micheal Johnson Performance, in the HydroWorx booth on Friday, December 6th. Brian will be discussing Aquatic Regeneration and Active Recovery on Friday December 6th at 3:25pm.
Sign up for a free upcoming webinar: "Use of Aquatics for Recovery and Regeneration," presented by Lance Walker, Director of Performance and Brian Abadie, Performance Specialist at Micheal Johnson Performance, on Wednesday December 18th. Attendees will learn ways to reduce soreness and enhance muscle recovery for athletes using water therapy. Sign up in our booth or by clicking here>>
Learn more about our new affordable and simple leasing program! You can install a HydroWorx pool in your facility for low monthly payments and minimal construction costs. Speak to a representative at our booth or find out more today!
Think Beyond Traditional Rehab Time Frames: Stop by the HydroWorx Booth #6 to learn how to help your athletes recover faster and stronger with aquatic therapy and training. Receive a free sports tip sheet for stopping by!
We are looking forward to seeing you in Nevada next week!