Using Aquatic Therapy as a Transitional Tool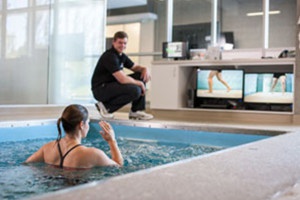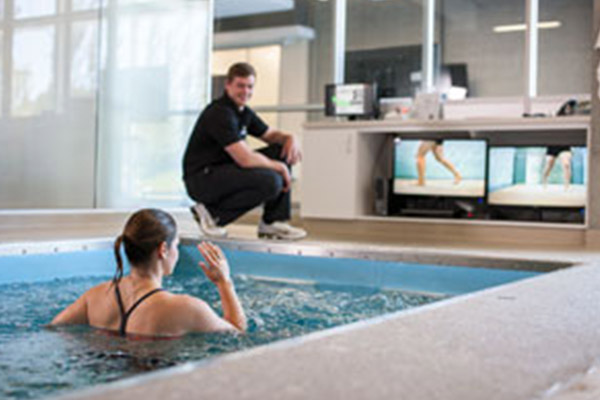 After a fall, surgery, or other injury, transitioning back to regular day-to-day activities can be extremely difficult, especially for seniors. Muscle atrophy quickly sets in from lack of physical activity caused by difficulty (or inability) to move on land.
Aquatic therapy can be the key to this challenging transition. Gait training in a low impact environment, such as water, allows for earlier replication of proper ambulatory biomechanics. Cardiovascular stamina, muscle toning and flexibility are augmented by the resistance that water provides.
In an article posted in April 2017, Erin Bussin of Fortius Strength & Conditioning in Burnaby, BC, breaks down six ways hydrotherapy can get a person back on their feet.
Takes the weight off. Performing movements is easier in the water and allows patients to do things they are not able to do on land. At chest-high water levels, a person bears only about 20% of his/her body weight.
Helps strengthen and mobilize the injured area. The characteristics of water decrease the compressive weight-bearing stresses and pressures that joints experience on land. This allows for more comfortable functional exercise in the water.
Cameras monitor running gait. With the help of underwater cameras, patients and physical therapists can actually see in real-time how their body may be compensating for an injury. Gait corrections can be made immediately.
Relieves pain. The warmth of the water relaxes joints and muscles promoting early range of motion and increased flexibility without the pain felt on land. Studies show improved balance, function, mobility and reduced joint pain after just 6 weeks in the water.
Enhances state of mind. Hydrotherapy gets patients out of the house and into a positive state-of-mind as they move again, pain-free.
In the video below, Colin Liston, PTA at Aqua Worx, in Logan, Utah, explains why the HydroWorx pool has been meaningful to him in helping his patients transition back to land therapy. Colin says that many times patients come to him with a feeling of hopelessness because of their physical state. Through aquatic therapy, patients are able to transition back to land therapy and get back to doing the things they love in their everyday lives.
Having a way to move and safely begin rehabilitation can do amazing things for the body and spirit. Early gains may become an immediate reality for those willing to explore the healing powers of water.
To learn more about the ways aquatic therapy impacts rehab, download our tip sheet>>