Upcoming Webinar: Aquatic Training for Healthy Athletes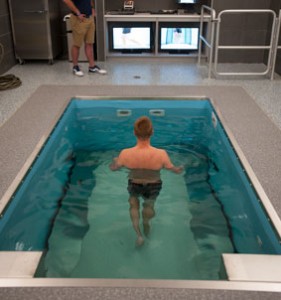 Aquatic therapy is a valuable medium for rehabilitation, but it can also be extremely powerful for training and conditioning.
Join us on Wednesday, September 10 at 11:30am EDT for the webinar, "Aquatic Training for Healthy Athletes." Timothy DiFrancesco, PT, DPT, ATC, CSCS, Head Strength and Conditioning Coach of the Los Angeles Lakers will provide useful ideas for training healthy athletes using hydrotherapy. Learn to elevate your healthy athletes' training and recovery to a new level by taking the workout to the pool. Sometimes you need something different to challenge your athletes so they don't get bored, stale or hit a plateau. The key is to do this without sacrificing the high performance training that they need to excel in their sport. Hydrotherapy can be the missing piece to the training and recovery puzzle. Check out this webinar to see exactly how!
Attendees of this webinar will learn:
The properties of water that benefit healthy athletes
How to use aquatics for injury prevention
How to prepare athletes for an aquatic workout
How to use the water to avoid over-training
How to make aquatic workouts sport-specific
Examples of research that indicate the benefits of water vs. land workouts
DiFrancesco offers valuable information to get the most out of your athletes' training! Register Today>>