Upcoming Webcast: Strategies to Perfect Upper Body Rehab Outcomes with Aquatic Therapy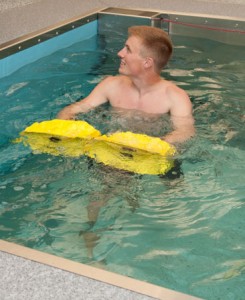 Often, the use of hydrotherapy for shoulder rehab is overlooked. Many people think that there is not much that water can do better than land therapy for shoulders. But we are finding more and more clinicians that are using water for upper body rehabilitation with great results!
Join us for an exciting webcast, streaming live from the HydroWorx pool at Coastal Carolina University in Conway, SC. The webcast will take place on October 29, 2014 from 1:00pm – 2:00pm EDT.
Barry Lippman, MS, ATC, NASM-PES, Associate Athletic Trainer/Rehab Coordinator for Coastal Carolina University, will provide specific strategies for developing advanced shoulder rehab programs, emphasizing the use of aquatic therapy as a medium to implement them. The strategies are developed to safely, efficiently and effectively bridge the challenging gap between rehabilitation and performance.
Attendees will learn:
A systematic approach to upper body training in the pool
A progression and regression for late term upper body rehabilitation using water as a medium
How to use water to work around specific contraindications
Effective scapular stabilization techniques to prepare athletes for overhead throwing
How to gain and maintain upper body strength while minimizing residual soreness
This 1 hour webcast will be broadcast live from the HydroWorx pool at Coastal Carolina University in Conway, SC. Want to attend the webcast in person? Live attendees will have the opportunity to try the HydroWorx pool at Coastal Carolina. Make sure you bring your bathing suit and towel!
If you are interested in attending in person, please contact Michele Reber today by email at mreber@www.hydroworx.com.
Register for the webcast today!