Upcoming Webcast: Aquatic Therapy for the Aging Adult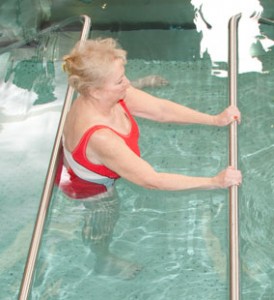 Staying active as we age is important for maintaining balance, agility and coordination. Aquatic therapy can provide the ideal medium for comfortably and safely staying active.
Join us for an exciting webcast, streaming live from the HydroWorx pool at Leg Up Farm in Mt. Wolf, PA. The webcast will take place on September 23, 2014 from 4:00pm – 5:00pm EDT.
Kim Eichinger, Executive Director of Fitness for Country Meadows Retirement Community, will explain how aquatic therapy and exercise can greatly benefit aging adults. Kim will demonstrate a variety of aquatic exercises and fun activities that will turn your after-therapy hours into an opportunity to serve older adults in your local community.
This live demonstration will feature exercises to improve range of motion, aerobic conditioning and fun activities for balance and agility. We will incorporate treadmill and jet features of the therapy pool and explore task-related exercises performed with a variety of tools. The activities featured are appropriate for active older adults who are seeking fun and functional forms of exercise to support their independent lifestyle.
Attendees will also learn:
Exercises to develop skills and improve coordination, balance and agility
Strategies to make sessions fun and keep participants engaged
The impact that advanced aquatic technology has on improving aging adults' physical conditioning and performance
This 1 hour webcast will be broadcast live from the HydroWorx 2000 Series pool at Leg Up Farm in Mt. Wolf, PA. Want to attend the webcast in person? Live attendees will have the opportunity to try the HydroWorx 2000 Series pool at Leg Up Farm.