Treating Osteoarthritis with Aquatic Therapy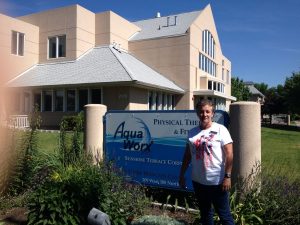 At AquaWorx in Logan, Utah, they understand the power of water to help their patients heal. Therapists at this premier therapy provider in Cache Valley have been easing patients' pain with the HydroWorx 2000 Series pool since 2010.
"We have the goal that when patients come in, they actually feel better, not worse, while they are here. And when they leave, they feel better than when they arrived," stated Amy Henrie, physical therapy technician at AquaWorx.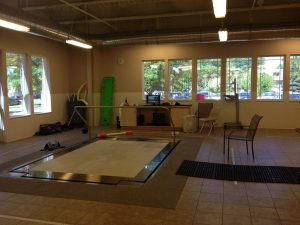 "With the water, patients are only bearing about 20-25% of their body weight. When you get that weight off people with arthritis, especially, it just helps them move more freely without the pain. The water also helps with circulation and helps blood and healing move into those areas that are harder to be accessed because of the compression of gravity. Also, the warm water helps to relax muscles and it's just a way to gently strengthen the muscles around the injured areas without exasperating the arthritis. We've seen the water help so many of our patients."
Clinical Studies
Studies at Utah State University prove Amy's point.
William M. Denning, Eadric Bressel, and Dennis G. Dolny of the Utah State University John Worley Sports Medicine Research Center, examined the levels of perceived pain and mobility in osteoarthritis patients after using underwater and land treadmills and learned that patients diagnosed with osteoarthritis may receive the same aerobic conditioning with less joint pain and greater improvements in mobility by utilizing underwater treadmills rather than to land treadmills.
"I think the overriding feedback that we receive from this study was that gains made in the water translate to gains on land," stated Dr. Dolny.
Method:
Nineteen patients, diagnosed with osteoarthritis in the knee, hip and ankle participated in the study. All participants were over thirty-five years old and had a clinical history of the disease.  Each participant performed three consecutive exercise sessions on a HydroWorx treadmill and a land treadmill, separating exercise periods by twenty-four hours and exercise mode by one week.  Each exercise period was twenty minutes and consisted of four, five-minute stages.  Joint pain was measured immediately before and after each exercise session. "Timed Up and Go" assessed basic mobility and balance before each exercise method and after the third exercise session.
Results:
Results of this study indicated that patients diagnosed with OA may walk on an underwater treadmill at a moderate intensity with less pain and equivalent energy expenditures, compared with walking on a land based treadmill at a similar moderate intensity.  Patients revealed that pain was 140% greater during land treadmill exercise sessions than during underwater treadmill exercise sessions.  The "Timed Up and Go," which measured the ability for patients to arise from a chair and walk a set distance was 240% greater after land treadmill exercise sessions.
Dr. Dolny concluded, "One hundred percent of the training in this study took place in the underwater treadmill, yet all the documented improvements were accomplished on land. Participants typically finished their sessions feeling better, with less pain, than when they started."
And that's the hope for each patient, each day at AquaWorx.
To learn more about how aquatic therapy can help patients with osteoarthritis, download our tip sheet>>