Transverse Myelitis Rehab Using HydroWorx Pool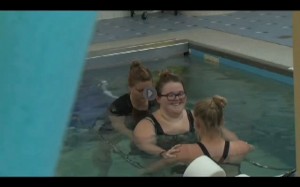 The following post is summarized from the recent WAVE3.com video and article, "Teen's determination to walk takes her 120 miles from home."
A few months ago, we posted about a young girl who was doing rehabilitation in a HydroWorx pool at Kennedy Kreiger for a condition called Transverse myelitis. That is not the only case of this rare disease where a pool is being used for the rehabilitation.
At age 14, Madison (Maddy) went from playing volleyball, softball and throwing shot put to not being able to move from the waist down. She was later diagnosed with Transverse myelitis, a rare disease that attacks the spinal cord. Both Madison and her mother were concerned as they began learning more about this condition because they knew she had a long road ahead, but Madison's determination never wavered.
She was so determined to walk again that she traveled 120 miles away from home to stay at the Ronald McDonald House. During her seven month stay there, Maddy received physical and aquatic therapy at Frazier Rehab in Louisville, KY.
Maddy would go to the Frazier Rehab center several times during the week to use their HydroWorx pool. In the pool she was free. Maddy would go through a series of exercises to strengthen her core and remind her muscles of the movements that she needed to walk. Her mom, Cyndi Duncan says,
"We've seen a lot of new movement and a lot of progress."
Maddy said instead of focusing on the difficulty of the routine, she often focuses on how others have helped her. "Some days they would believe in me more than I would believe in myself."
Because of Maddy's aquatic therapy and land therapy at Frazier Rehab, she is now back at home in Bowling Green and she is able to take a few steps with assistance. She certainly has come a long way from her initial diagnosis!