Recent Webinar: Training Distance Runners in an Aquatic Environment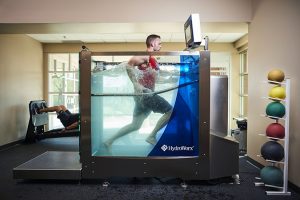 On September 14, 2017 Hugh Blocker presented a webinar titled, "Training Distance Runners in an Aquatic Environment."  As the assistant athletic trainer for cross country and track and field at Liberty University in Lynchburg, VA, Hugh has vast experience in helping runners train, decrease times and stay healthy. In this webinar, Hugh shares how athletes have benefitted by incorporating hydrotherapy and the HydroWorx 300 into their training regime.
For more information, answers to the questions, and the discussion in its entirety, please watch the webinar on-demand>>
Hydrotherapy's High-level Benefits to Distance Runners
Reduced impact through increased buoyancy. With the use of water, runners are able to increase output without breakdown of their bodies.
Hydrostatic effect increases venous return and improves cardiovascular condition. This property of water and its benefit to athletes is just beginning to be understood, especially for athletes with special muscular needs or low back issues.
Fluid resistance allows for constant resistance training while in the pool. In other anti-gravity machines, there is no added resistance.
Resistance jets make core engagement mandatory. Out of the water, athletes sometimes slide into a pattern of zero core engagement. But in the pool, working against the jets, that's not possible. This alone has made a huge difference for their athletes.
Hugh also discusses what he calls "kick outs" in the running motion and how running on the underwater treadmill addresses this.
"Several of our athletes," explains Hugh, "begin with some of the worst kick outs and Q angles I've ever seen. We put them in the underwater treadmill and look at them from behind. With a posterior view, we see that the athletes stay very stable. There's no wasted body motion. They are forced to engage glutes and not able to kick out as much because of the resistance of the water. We're addressing anterior chain muscles, which sometimes get ignored. We're getting good core activation and solid knee drive."
"The athletes then transfer this motion onto the track and the cross-country course and they're feeling a lot more power, reducing injuries in the process. These are great conditions to address in the underwater treadmill."
Hugh and his team also use the underwater treadmill for
Longer, sustained "temp" runs
Post workout recovery days (30 min, easy run)
Second run of a day – working to increase weekly mileage without risk of breakdown
Post-surgical rehab
Post-injury rehab
At the end of the webinar, Hugh spends a few minutes answering participants' questions, such as how he and his team at Liberty University in Lynchburg, VA use the underwater treadmill for cross-training purposes and how many miles his athletes spend in the water each week.
For the answer to these questions and much more, please watch this enlightening webinar on demand>>