To London we Go…Congrats to Galen and Dathan
Friday night, the men's 10,000 m Olympic Trials race took place, in Eugene, OR, in the pouring rain. Did that affect the Oregon Project runners, Galen Rupp and Dathan Ritzenhein? It certainly did not.
Galen crossed the finished line beaming and quite soundly, about 10 seconds ahead of the next Olympic qualifier, with an Olympic trials record of 27 minutes 25 seconds. Matt Tegenkamp took second with a time of 27:33 and Rupp's teammate, Dathan Ritzenhein placed third with 27:36.
Congratulations to all three runners who will be heading to London next month. All three runners train and run out of Oregon and both Galen and Dathan train together at the Oregon Project facilities under coach Alberto Salazar. In another article titled, "Closing the Gap on Africa's marathon masters," Paul Waldie discusses a bit about the training methods utilized at the Oregon project  as well as reasons for their successes.
 "Funded by Nike and led by Salazar, the Oregon Project has often used novel and sometimes controversial methods. Some techniques pioneered by the Project have become standard for other clubs. That includes underwater treadmills, which allow runners to increase their mileage with less pounding."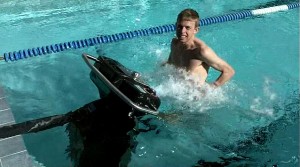 Our own, Anson Flake (CEO of HydroWorx) was quoting saying, 'If you weigh 150 pounds, you'll weigh about 30 pounds in chest-deep water.' Flake said most of his machines were initially designed for rehabilitation, to help athletes and non athletes recover from injuries. Salazar incorporated the machines into his runners' training regimes and now many Oregon Project athletes do nearly one-third of their weekly mileage on them."
Following the race on Friday evening, a proud coach, Salazar reached out and said,
"The recent Olympic Trials performances by Galen and Dathan were greatly helped by our constant use of the HydroWorx underwater treadmills.  We used them right up to the Trials and will keep using them through the Olympics"
Congratulations again to Galen Rupp, Dathan Ritzenhein and all Olympic qualifiers. We are proud of you!